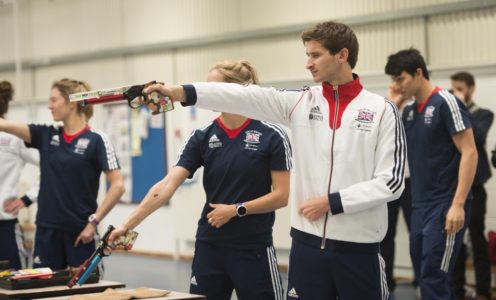 Pentathlon GB Performance Director Jan Bartu believes his athletes will have "learnt a lot" from their experiences at the Modern Pentathlon World Championships in Moscow this week.
Jamie Cooke's ninth-placed finish in the men's final on Saturday brought to a close a competition that had started brightly with silver in the women's relay but then proved tricky, with only three of the eight British athletes reaching the individual finals.
But with the Rio 2016 Olympic Games firmly on the horizon, Bartu was determined to take the positives.
"Looking at the top results and medals, we fell behind our expectations," he said.
"However, we have learnt a lot from the experience and now we will start our final preparations for the Olympic Games when everything starts again from zero.
"Jamie deserves recognition for his ninth-placed finish, which was a very good performance.
"There were definitely positives from the week and we've seen improvements in individual disciplines during these championships. I'm confident that we are on the right track. We'll analyse the performances and then plan for the upcoming weeks."
Cooke, the only British representative in Saturday's final, went into the competition on the back of a historic gold medal at the World Cup Final.
He was one of five athletes to go below two minutes in the swimming pool, then continued his improved fencing form to finish with 17 wins from 34 bouts.
That put Cooke ninth going into the ride, where an impeccable round secured 300 points and moved him up to fifth ahead of the combined run/shoot.
A thrilling finale saw positions fluctuate throughout and Cooke eventually crossed the line in ninth, just nine seconds away from fourth place and more than good enough to secure an Olympic qualification quota place by virtue of the world ranking list.
Pentathlon GB Men's Head Coach Marian Gheorghe was extremely pleased with Cooke's performance, saying: "This was a very tough competition with the highest quality field as it was the last chance for athletes to qualify for the Olympics.
"It has also been a very competitive and intense season with events since February, so we were pleased to see Jamie in such good form all day. Our objective for the World Championships for Jamie was to secure Olympic Qualification and we succeeded with that really well.
"To finish ninth in the World was an excellent achievement and Jamie should be very proud. We now have two months before Rio where we can focus on final preparations.
"We want to build upon Jamie's recent form and performance today to give him the best chance of success at the Olympic Games."
Cooke's finish was the best individual GB performance of the week after Samantha Murray and Kate French finished 16th and 24th respectively in the women's final.
Monday saw Murray claim silver in the women's relay alongside 21 year-old Joanna Muir, GB's tenth medal in the last five World Championships.