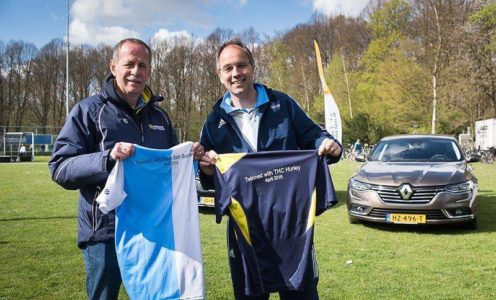 Team Bath Buccaneers hope that a groundbreaking twinning process with Dutch Premier League club Hurley will lead to more talented young players combining hockey and study at the University of Bath.
Three Buccaneers executive members flew out to Amsterdam recently to establish the link, the first of its kind between two European clubs.
And Chair Nick Kendall, who was joined on the trip by Director of Hockey Heber Ackland and men's assistant coach Jon Williams, believes there will be plenty of benefits for both clubs.
"There are various things we can do through this partnership, like exchange information about coaching and how the clubs are run," he explained.
"We are taking the men's 1st team to Hurley for pre-season and will look to make that a regular thing. There is also the chance for other exchange visits and tours in the future.
"But what really hit home to me was the potential for recruitment to the University.
"Hockey is the national sport in the Netherlands and it is not easy for either men or women players aged between 18 and 21 to play for a Dutch 1st XI. There are 2,500 members of Hurley alone and they are on a campus with two other similar-sized clubs.
"There are so many players ahead of them but they could be stand-out performers if they came to England.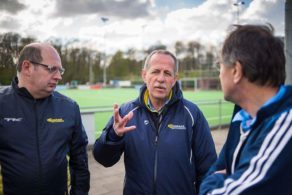 "What we can offer them here is not only the chance to play hockey at a very high standard with Buccs and the University in the high-performance structure and environment provided by the Sports Training Village but also gain a world-class education at the University of Bath and live in a World Heritage City – that is a powerful combination."
The unique link between Buccs and the University of Bath is one of the driving factors behind the twinning with Hurley.
Current Hurley player Andrew Eversden spent the 2014-15 season with Buccs, helping them win the EHL Conference West title, and instigated closer links between the clubs upon his return to the Netherlands.
"Andrew enjoyed his time here and was really impressed with the set-up, how it offered a great combination of hockey, coaching work and studying," Kendall added.
"There isn't anything like that in the Netherlands. Hurley are a really forward-thinking club and this twinning process means we can learn from each other."
For more information on Team Bath Buccaneers, or combining hockey and studying at the University of Bath, visit http://www.teambath.com/sport/hockey/team-bath-buccaneers/
Pictured at the top of the page are Team Bath Buccaneers Chair Nick Kendall (left) and Hurley HC Chair Huub Arendse exchanging shirts