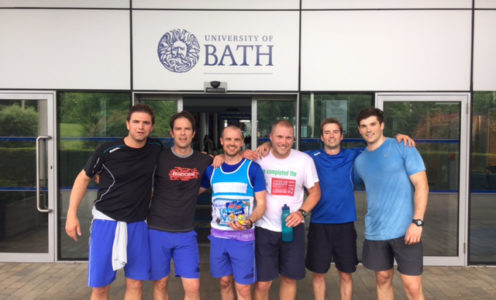 Most of us mere mortals find the prospect of a single half-marathon a relatively daunting experience. The same can't be said of Team Bath Strength and Conditioning Coach Bob Smith who, on Sunday, ran his 26th such distance in as many weeks.
In January, Bob ran the first of 52 half-marathons planned for 2016 in aid of the Wallace & Gromit Grand Appeal at Bristol Children's Hospital who provided care for his daughter Autumn when she was taken seriously ill in November aged just four weeks.
She was rushed to the hospital's Paediatric Intensive Care Unit (PICU) with a life-threatening heart condition called Supraventricular Tachycardia.
For 48 hours, Bob and his partner Katie waited anxiously as doctors placed Autumn under sedation, lowering her body temperature and ventilating her through a tube to take the pressure off her heart.
After being gradually brought off ventilation Autumn spent time recovering on the High Dependency Unit before finally being allowed home five days later. She will require more treatment in the future but is now a happy and healthy five-month-old baby.
Just seven months on, Bob has raised over £4,000 for the cause and, despite being 26 half-marathons deep into his journey, he is feeling in great condition.
"In the last few weeks my body has started to feel pretty good during runs," he said. "It's so psychological that I think it often comes down to how I feel on the day.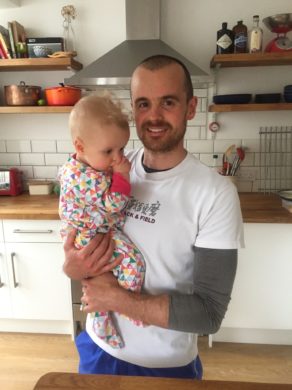 "It's cliche but I'm really just taking one at a time. Each run is enough of a challenge to not really look beyond into the future. I am planning my runs until the end of the summer but right now I'm just getting ready for the next run on Sunday."
Bob's fundraising target is £8,000, leaving him just less than 50% short and in need of help getting there following the fantastic support he has received from family and friends this far, something he was keen to praise.
"On runs 24 and 25 I had company and it made such a difference," he said. "On both occasions I've felt like I could have gone a lot further.
"On run 23 I ran on my own and struggled to finish under 2 hours!"
After a wet start to the year, Bob now faces the heat of summer and a potentially damp autumn before achieving his ultimate goal, but he is optimistic about finishing the challenge strongly.
"I've got no injuries at the moment. I feel like as long as I stay on top of rolling stretching and most importantly some basic strength work, I'll be fine… touch wood!
"The next run is a big enough challenge to make me nervous but strangely the magnitude of what's to come doesn't really intimidate me. I always think that it's just 2 hours of relative hardship in a week and I can take that to show our gratitude to the hospital with what they did for us. I'd start again if I had to."
To support Bob's marathon efforts, you can make a donation at www.justgiving.com/bobsm100 or text BOBS61 £1 / £5 / £10 to 70070.
You can follow Bob's progress or contact him to help with his fundraising appeal on his blog or via his Twitter account.