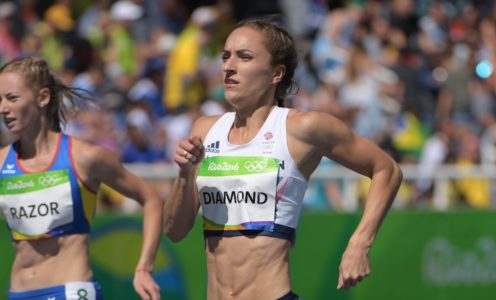 University of Bath-based athlete Emily Diamond says she is taking plenty of positives from her on-track Olympic debut, despite a far-from-perfect build-up at Rio 2016.
Laid low by food poisoning just 48 hours before she was due to run, Diamond showed tremendous spirit and resilience to not only compete in her heat but also qualify for the semi-finals.
The 25-year-old then ran an excellent time of 51.49 from lane one, just outside her personal best of 51.23, to finish sixth in her semi-final in the early hours of Monday morning.
While that was not enough to progress to the final, ranking her 14th overall, Diamond was delighted with her efforts after a difficult week.
"I'm really happy," said Diamond, who is coached by Jared Deacon and trains at the Sports Training Village.
"I didn't expect to run sub-54 this week after what I had been through but to run sub-52 twice and to be so close to my personal best from lane one in my first Olympics, I have got to be pleased with that.
"Yesterday I still felt pretty horrendous. I was in tears in the warm up not knowing if I would compete or not. Today I'm much better than I was then. I'm still not perfect, my stomach is still a little unsettled but I can't complain really.
"I managed to run and I'm an Olympic semi-finalist which not many people can say so I have got to take all the positives from that. It is frustrating I couldn't run a sub-51 in my first Olympic Games but I know it is there and I know have the confidence to go on from here."
Diamond now has a few days to fully recover before the women's 4x400m relay heats take place in the early hours of Saturday morning.
Eilidh Doyle, one of her relay team-mates and a fellow University of Bath-based athlete, makes her first appearance of Rio 2016 in heat six of the women's 400m hurdles at 2.10am BST on Tuesday.
Andrew Pozzi – who, like Doyle, is coached by Malcolm Arnold at the Sports Training Village – goes in heat three of the 110m hurdles at 12.56am BST. University of Bath Business Masters graduate Lawrence Clarke, who also used to train with Arnold and finished fourth at London 2012, is in heat five at 1.12am BST.
Been inspired by the athletics in Brazil? There's still time to join us in the fun at our athletics camps during the school holidays – click here for more information.
Picture by: USA TODAY Network/SIPA USA/PA Images