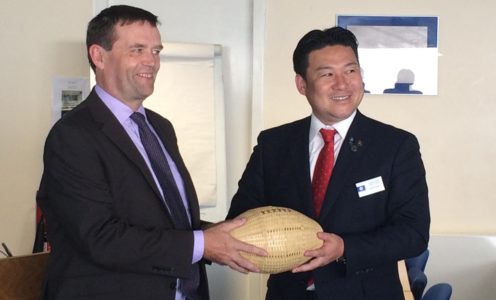 A delegation of Japanese experts, led by mayor of Beppu Yasuhiro Nagano, are visiting the Sports Training Village for advice ahead of the 2019 Rugby World Cup in Japan.
Twelve delegates were given a tour of the University of Bath's sports facilities and presentations held ahead of a two-day visit during which they will learn the intricacies of hosting international rugby teams at the facility – Australia trained at the STV during last year's World Cup in England, where they finished runners-up to New Zealand.
Greeting the Japanese party on arrival were University Vice President Steve Egan CBE, Director of Sport Stephen Baddeley, Rugby Head Coach Aaron James and Event Manager Lisa Ashcroft, who co-ordinated the visits of the England and Australian national rugby teams to the University within the past 12 months, among others.
Speaking at the greeting, Mr Egan said: "We are pleased today to show you our Sports Training Village. It is a place where elite athletes, students and members of the community share our fantastic facilities.
"Bath is a rugby city, the University has a strong rugby team and we have hosted a number of international rugby teams here," he continued.
"As a rugby fan, I am looking forward to the 2019 Rugby World Cup and I am particularly looking forward to Japan beating South Africa again! I hope you enjoy your stay with us, learn a lot from us and we will show you all that we can at the University."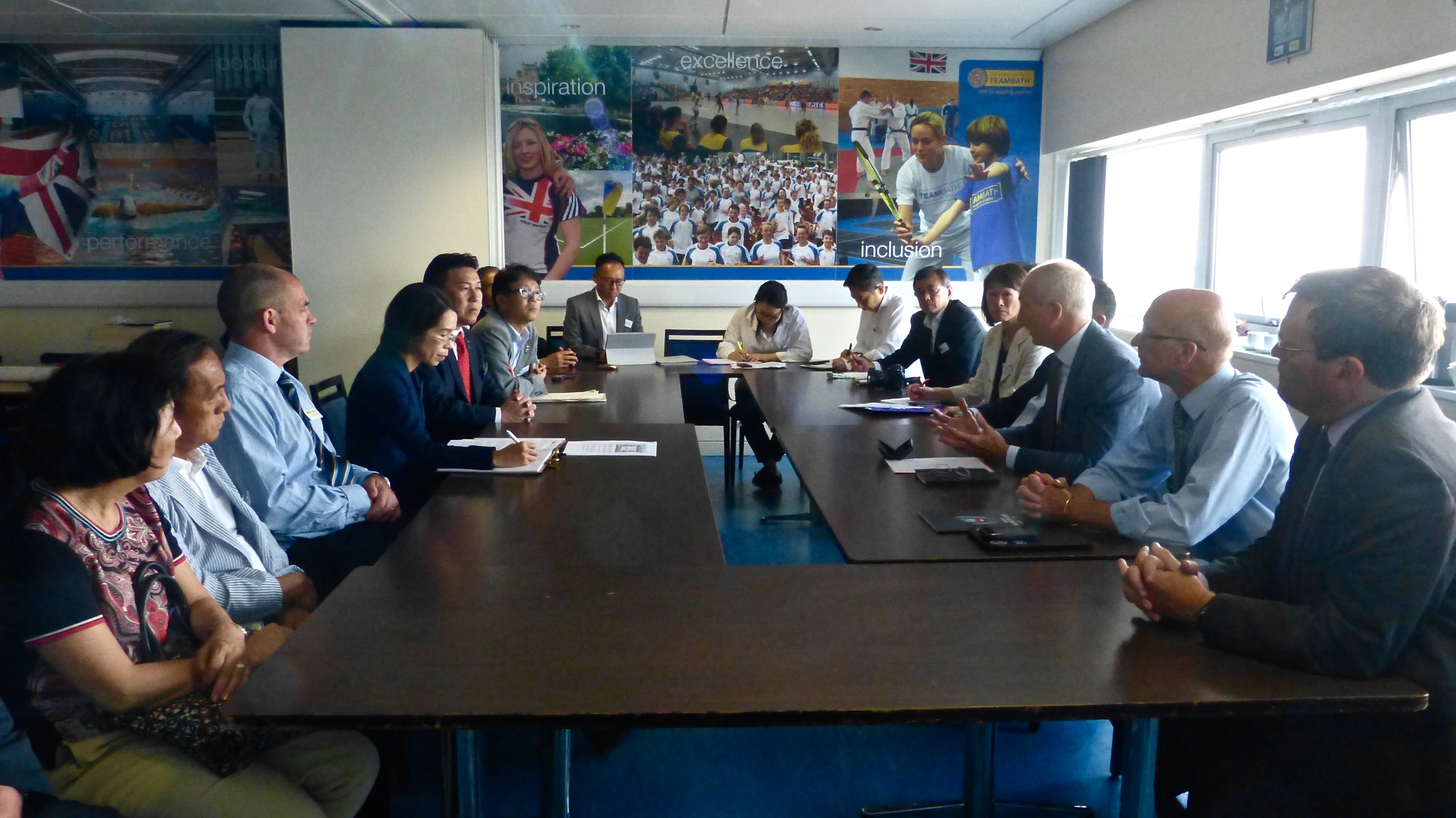 Beppu's vice mayor gave a brief presentation outlining Japan's plans for hosting the World Cup, including details about stadia, accommodation facilities and the legacy of rugby participation the country are hoping to achieve following the tournament.
Mayor Nagano, elected in April 2015, was keen to express his gratitude for the University's role in helping prepare Japan ahead of the event.
"In 2015, after the great success of beating South Africa in the Rugby World Cup, interest in rugby grew among the Japanese people and when we host the World Cup in 2019 it'll be something new to us," he said.
"We are extremely thankful for your hospitality and in the future we hope to have a strong relationship in sport, education, financial matters and culture."
Following the presentation Mr Nagano presented Mr Egan with a hand-made rugby ball crafted from bamboo in a technique only a single Beppu citizen has mastered.