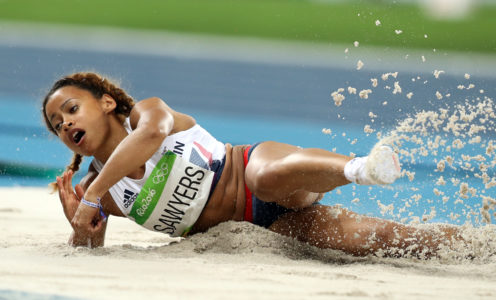 University of Bath-based athlete Jazmin Sawyers was the highest-placed Brit in the Rio 2016 women's long jump final in the early hours of Thursday morning.
The 22-year-old cleared 6.69m to finish eighth overall on her Olympic debut – a result that Sawyers, who has jumped 6.86m this season, described as "good but not great".
"When you say it like that – 'eighth in my first Olympic final' – it's good but I jumped 6.69 and I'm better than that," said the British Champion, who is coached by Alan Lerwell.
"Yeah, the goal was to get to the Olympics and then it was to make the final and then it was top eight and it didn't stop there.  I stopped there and that's why I'm disappointed.
"I know I shouldn't be. I'm the highest-placed Brit and I beat a lot of girls that were ranked higher than me but I wanted to beat more of them and I plan to. I'm just frustrated that I couldn't tonight.
"I wasn't getting the right speed off the board, I wasn't moving as good as I could do off take off. There's nothing that I can look at and think, that was wrong. There's no one thing I can look at and think that was wrong. There's nothing that I can blame it on, so to speak, it's just that I didn't produce my very best.
"But I think that I am being hard on myself.  That's pretty good. It's the equivalent of making a track final – top eight. I'm 22 and I've got years. I am not going to let this be the end."
Sports Performance graduate Danny Talbot also had mixed emotions after running a personal best of 20.25 but missing out on a place in the men's 200m final, finishing third in his semi-final and 11th overall.
"I was very happy to get a personal best but I was really hoping to get into the final today," said Talbot, who was coached by Dan Cossins at the Sports Training Village.
"I came close and I know what I need to do next time to get into the final – you've got to be able to run under 20 seconds and you've got to be able to put back-to-back races together, go 20.2 in the heat then come back and run low 20, maybe even 19. That's what I'm going to work towards for next year and hopefully I'll be able to do it
"It's been a difficult year for me. I changed coach in January, then we went to a relay camp in May and I got appendicitis. There was a time when I thought I wouldn't even make the trials let alone the Olympics
"For me I'm always proud to put on a Great Britain vest and as much as I want to do well and be top of the podium at the end of the day you've just got to accept that you are just not good enough at the moment. I'll work hard to rectify that and hopefully next year I'll be in a stronger position."
Talbot is a member of the Team GB men's 4x100m relay squad that begins their medal campaign on Thursday – they go in the second heat at 3.48pm BST.
Eilidh Doyle, coached by Malcolm Arnold at the Sports Training Village, goes in the 400m hurdles final at 2.15am BST.
Have you been inspired by the track and field action in Brazil? Don't miss out on our great athletics camps during the school holidays – click here for more information.
Picture by: Mike Egerton/PA Wire/Press Association Images