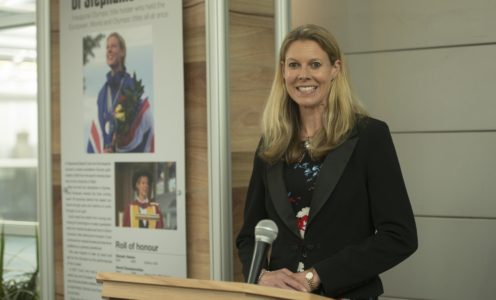 She was the first-ever athlete to win an Olympic gold medal while training at the University of Bath and remains an inspiration to all at the Sports Training Village.
Now Dr Stephanie Cook is confident of seeing more medallists follow in her celebrated footsteps when the modern pentathlon competitions take place over the next 48 hours.
Cook and training partner Kate Allenby won gold and bronze respectively in the first-ever Olympic women's modern pentathlon event at Sydney 2000.
Pentathlon GB athletes have gone on to medal at each of the subsequent Games – Georgina Harland won bronze at Athens 2004, while Heather Fell and Samantha Murray won silver at Beijing 2008 and London 2012 respectively.
Murray will be looking to become the first female pentathlete to win two Olympic medals when she competes alongside Kate French in the women's competition tomorrow.
World number one Jamie Cooke and University of Bath Mathematics student Joe Choong will then be bidding to become the first-ever British men to win a medal when they compete on Saturday. Both the women and men have their fencing ranking rounds today, at 2pm BST and 6.30pm BST respectively.
"We have a really strong squad, both men and women," said Cook, who is in Rio commentating on modern pentathlon for the BBC.
"We've had women on the podium at the last four Olympic Games and will hopefully continue that legacy in Rio. It would also be great this time round to get at least one of the men up there as well.
"Their results have been consistent during the four-year cycle since London and it has all been building towards this event. There are so many factors and variables in pentathlon but if things go right on the day, they follow the process and have a bit of luck then they all have a good chance."
It may be 16 years since she won gold but the memories – and emotions – remain vivid for Cook, who famously clawed back a 49-second deficit going into the concluding run to overhaul America's Emily de Riel in the closing 200m.
"It's incredible how one day can define so much of your life in many ways," said Cook, who – along with Allenby – was recently inducted into the University of Bath Hall of Fame for Sport.
"I remember going into the Games thinking that if I was within a minute of the leader when it came to the run that I would have a chance of winning a medal. It was just a case of how far through the field I could get and what colour the medal would be. Some people felt I cut it a bit fine but I thought it was perfectly judged!
"To stand on the podium with two people I'd trained with, Emily and Kate, was something you could only dream of. Then there was the whirlwind of doping control and the closing ceremony, so before I knew it I was on my way home.
"It was at that point I sat and cried as the reality of the whole thing set in. I still get emotional talking about it now – it was just an amazing day."
Stay up to date with all the latest news and results from Rio 2016 by clicking here