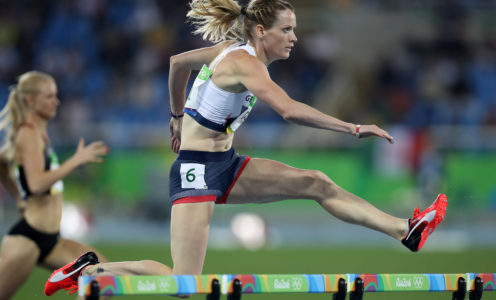 University of Bath-based athlete Eilidh Doyle missed out on a medal in the 400m hurdles final but will have a second shot at a Rio 2016 Olympic Games podium place in the 4x400m relay over the weekend.
Doyle, coached by Malcolm Arnold at the Sports Training Village, was unable to get into contention from the inside lane of the hurdles final overnight and had to settle for eighth place in 54.61.
"It's a really strange one," said Doyle, competing in her second Olympic Games but her first final.
"I look back on the race and think 'what did I actually do wrong?'. Normally I can say something at that hurdle or that hurdle but there is no hurdle that I felt I hit wrong. I just wasn't in the race and I don't know why.
"I said that if I could leave the track having given it everything I'd be really happy and I did, but I'm not happy.
"I thought if I ran that way I'd be further up the field or run a PB. I feel like lane one might have had something to do with it – the bends are very tight – but I don't want to use it as an excuse or anything.
"I'm thinking that if I went back to Malcolm, he will say that you did everything right and you just weren't quick enough."
Doyle is a key member of the Team GB women's 4x400m relay team, helping them finish on the podium at the last two World Championships.
British 400m champion Emily Diamond, who also trains at the University of Bath and reached the semi-finals of the individual event in Rio, joins Doyle in the relay squad. GB go in heat two at 12.51am BST on Saturday, with the final at 2am BST on Sunday.
Have you been inspired by the track and field action in Brazil? Don't miss out on our great athletics camps during the school holidays – click here for more information.