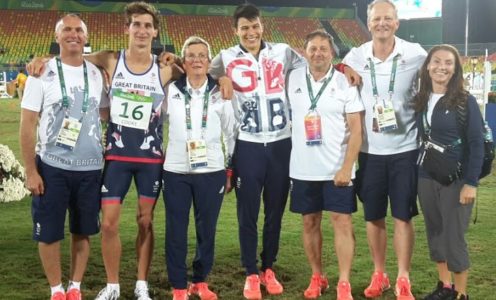 There was to be no medal for University of Bath-based modern penathletes on this occasion but there were still plenty of positives to take from the Rio 2016 Olympic Games for Pentathlon GB.
Kate French and Samantha Murray both overcame difficult starts to record top-ten finishes in the women's event.
Mathematics student Joe Choong then produced the performance of his career so far to start the combined event of the men's competition in silver-medal position.
The 21-year-old went on to finish tenth overall, four places ahead of team-mate Jamie Cooke, but both could feel proud of their achievements on their Olympic debuts.
"All of the competition has been good until the two shoots at the end, that really just threw my medal chances out of the window," said Choong.
"I guess at the moment I am disappointed but I know coming into the competition I wouldn't have been upset coming tenth. I know if I had shot like I normally do I would have won a medal so that gives me great confidence going forward."
Cooke was out of medal contention after a below-par fencing round on Thursday but was strong on Saturday and set a new modern pentathlon Olympic record of 1:55 in the 200m freestyle swim.
"Fencing has been going really well this year and the World Cups have been really good for me, this was just not the best time to have a bad day at the office," he said.
"I recovered as best as I could and the swim went well which I was very pleased with. I moved up the standings, which was good, and I have definitely learnt some lessons from this."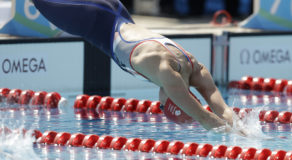 It was a similar story for French and Murray in the women's competition on Friday, with both climbing up the rankings throughout the day to finish sixth and ninth respectively.
Olympic debutant French, a Sports Performance graduate, went clear in the ride and said: "I'm really, really happy. I kept moving up today and I couldn't have asked for any more after my fencing which wasn't great.
"I always enjoy the riding but it's quite hit and miss whether you get on with your horse or not. Luckily I rode really well, my horse was really good to me and I had a really nice clear.
"A medal was on my mind at the end. I did my best but I'm still really happy with sixth. My shoots could have gone a little better but with this atmosphere it was quite hard to keep concentration but the buzz was incredible and it definitely helped with the running.
"My first Olympic experience has been so amazing, I've loved competing here."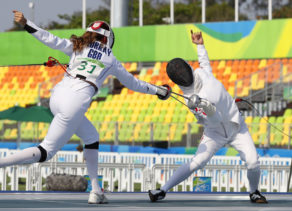 French & Politics graduate Murray, who won silver at London 2012, added: "I've just got to be happy with what I've achieved.
"The fencing was a nightmare and I went home feeling heartbroken. After four years of sacrifice and hard work, I wasn't myself out there.
"Then I woke up this morning and thought 'this is the Olympic Games, I'm not sure if I'm going to be here again so I've just got to embrace the atmosphere, soak it up and do myself proud'.
"I went out there and I tried my hardest in all of the events. Again, pentathlon being pentathlon, I had some unlucky poles in the riding that were expensive and I was two seconds down on the swimming time I wanted to achieve.
"In the combined, I ran my heart out. I left it all out there. I shot pretty well too considering it's the Olympic Games so I'm pleased. To finish top ten is a really steady result. Obviously I said I wanted to win a medal, I wanted to be the first GB woman to win two Olympic medals, but it still hasn't been done, so maybe there's a curse on it."
The University of Bath Sports Training Village is the proud home of Pentathlon GB's national training centre, with a number of athletes combining study and sport. Find out more about modern pentathlon by clicking here.