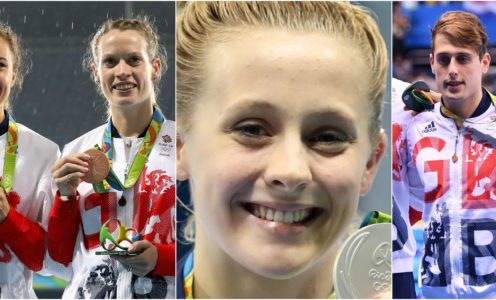 University of Bath-based athletes played their part in helping Great Britain achieve one of the most remarkable Olympic results in its history according to Team Bath Director of Sport Stephen Baddeley.
Team GB ended the Games second in the medal table with 67 total medals including 27 golds – one more than third-placed China.
Athletes who base their training at the University's Sports Training Village contributed six medals towards the haul – four silvers and two bronze.
Swimmers Siobhan-Marie O'Connor, Jazz Carlin (two) and Chris Walker-Hebborn secured silver medals in the pool, whilst Eilidh Doyle and Emily Diamond collected bronze medals in the 4x400m relay event.
And Baddeley paid tribute to all the University-based athletes who represented their countries in Rio.
"In many sports the Olympic Games represent the pinnacle of achievement," Baddeley said. "For so many University of Bath-based athletes to compete at Rio demonstrates the incredible hard work they have each put in.
"We are delighted to have so many talented athletes based at the Sports Training Village and their achievements in Brazil have done the University proud."
Following the conclusion of the Olympic Games, attention now turns to the Paralympic Games in which five University-based athletes will compete.
Runners Paul Blake and Sophie Kamlish will make their second Paralympics appearances on the track, whilst world number one wheelchair fencer Piers Gilliver, 16-year old sprinter Polly Maton and para-triathlon guide Nicole Walters will make their debut Paralympic Games.
"We wish our athletes heading to the Paralympic Games the very best of luck," said Baddeley ahead of the Games which take place between September 7-18.
"All five are extremely gifted individuals and and we are all fully behind them ahead of their competitions in Rio."
Alongside the obvious medal successes achieved so far at Rio are a number of reasons for optimism for the next generation of Olympic stars.
The average age of University-based athletes who will have competed at Rio by the end of the both Games is just 24, with a number of stand-out athletes such as silver medallist O'Connor, 20, Joe Choong, 21, and Kamlish, 19, proving particularly exciting prospects.
And former Commonwealth Games competitor Baddeley says the hard work starts soon for developing potential into performance ahead of the 2020 Games in Tokyo.
"As is the case in most Olympic sports there won't be a long period following the Olympics before the hard work starts all over again," he said.
"That is the mindset of modern performance athletes and as a high performance environment we will be doing everything we can to support our athletes and coaches as work builds towards Tokyo in 2020."
For a full list of Rio results for University of Bath-based athletes, see our Rio 2016 pages.