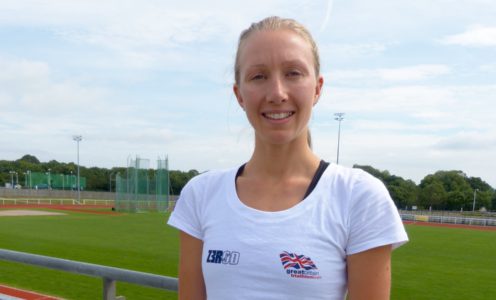 University of Bath graduate Nicole Walters will enjoy a moment of sporting history this week when para-triathlon makes its debut appearance at the Rio 2016 Paralympic Games.
Walters will be guide to visually-impaired triathlete Melissa Reid in the PT5 competition on Sunday, September 11. After a 750m swim in the Praia de Copacabana off the iconic Copacabana Beach, they will then cycle 20k before running 5k.
The ParalympicsGB duo, who won gold on their debut outing together at the 2013 World Para-Triathlon Championships, will be hoping to emulate or better their second-placed finish at last year's test event in Rio.
"It's exciting, I've been working towards this for a long time," said Walters, a Sports & Exercise Science graduate who still does her training at the University of Bath.
"This is the first year para-triathlon has been in the Paralympics and not all of the categories will be contested this time, so we were lucky that we got in."
Keen sportswoman Walters played squash at a national level before first taking up triathlon when she started studying in Bath in 2007, qualifying for the Age-Group World Championships at the Sprint and Olympic distances in her first year.
She then focused on cycling for a couple of years before getting her first experience of being a para-triathlon guide in 2013.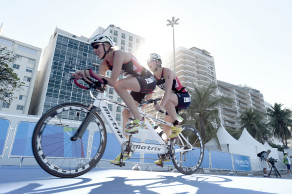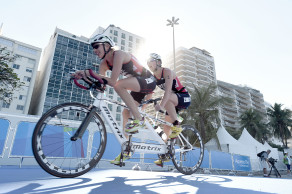 "Melissa got in touch to ask if I would like to guide her for a couple of races because of my strong cycling background," Walters explained. "It's beneficial to be a strong cyclist as a guide because you can make a difference on the tandem.
"We raced together for a couple of seasons and did well but there was an official recruitment process by British Triathlon for guides in 2015, so I had to go through that and be formally selected.
"We've been programme guides for the past couple of years, so I have been racing with another couple of athletes and it was only back in June that I was reassigned to Melissa. It's gone full circle, back to where I first started.
"We swim tethered, tied at the ankle, and Melissa follows me. Then it's onto the tandem for the bike and in the run we have a handheld tether, with me giving Melissa instructions the whole way round. The athlete has to cross the line first.
"The guide generally has to be a lot faster at swimming and running than the athlete – you need to have the headspace to tell them what they are doing at race pace. If I was the same speed as Melissa, I would be breathing just as hard as she was and wouldn't be able to tell her where she was going.
"I don't train with Melissa too often, it's mostly just around races. I've been racing with her for some time now so we know each other well. Even on the tandem I don't need to tell her when I'm changing gears because she just knows that it's coming from my riding style."
Walters lives just around the corner from the University and is very much at home in Bath, saying the area is ideal for her training programme.
"I do my swimming training here in the London 2012 Legacy Pool and my biking and running on the trails and hills around the University," she said.
"We have the Odd Down Cycle Circuit nearby for technical skills and I have physio support through the EiS [English Institute of Sport] here at the University as well, which is fantastic and really helpful."
Former Team Bath swimmer David Hill will be among the very first para-triathletes in action when he contests the PT4 category on Saturday, September 10.
Rio will be his second Paralympic Games – he reached the 100m backstroke final at Athens 2004 while being coached by Mark Skimming at the Sports Training Village.
Walters is one of five University of Bath-based athletes competing at the Rio 2016 Paralympic Games. Paul Blake, Sophie Kamlish and Polly Maton are all in track and field action, while Piers Gilliver will be going for gold in wheelchair fencing.
University of Bath graduates Alexandra Rickham and Louise Hunt will represent ParalympicsGB in sailing and wheelchair tennis respectively.