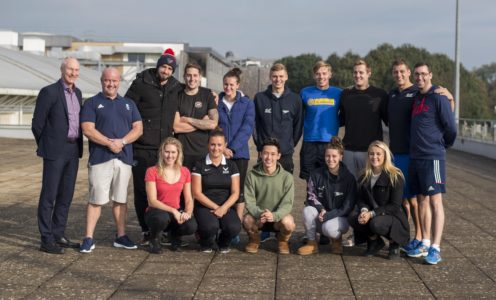 Ten University of Bath-based swimmers – including three Rio 2016 Olympic medallists – have been selected to the British Swimming World Class Performance Programme for the 2016-17 season.
Jazz Carlin, Siobhan-Marie O'Connor and Chris Walker-Hebborn, who all won silver in Rio, have retained their place in the Podium programme along with fellow Olympian Andrew Willis.
Six more British Swimming National Centre Bath athletes have been chosen for the Podium Potential programme – Sport Performance graduate and World Champion Calum Jarvis, Charlie Attwood, Georgina Boyle, Jessica Fullalove, Joe Hulme and Sports & Exercise Science student Tom Derbyshire.
All ten train in the London 2012 Legacy Pool at the Sports Training Village and are coached by Dave McNulty and Graeme Antwhistle.
Athletes selected on to the World Class programmes are eligible to receive advanced training camp and competition opportunities, access to world-class sports science and medicine services, and enhanced support from British Swimming performance staff and National Institute of Sport programmes across the country. Athletes will also receive targeted financial assistance from UK Sport through the World Class Performance Programme's Athlete Personal Award (APA).
British Swimming National Performance Director Chris Spice said: "The sport enjoyed a very successful 2016 but we know that our aims and ambitions don't end there as we now move forward to the 2020 Olympic Games. This year's investment is going to enable our talented swimmers to continue to achieve their performance targets as they set their sights on Tokyo.
"Our focus on process driven goals supporting our clear medal opportunities has delivered fantastic results in the last three years. This valuable support has helped us to achieve as a team and I'd like to thank UK Sport and the National Lottery for their continued investment."
British Swimming's Head of Elite Development Tim Jones added: "The past year has been great with some strong performances from a number of our young and talented swimmers. As we begin the new quadrennial we have used this opportunity to make some obvious investments into a new generation of athletes with a clear focus on Tokyo and beyond.
"Through membership of the World Class Programme we believe we can help all of our athletes on their journey by providing a comprehensive support package to help further nurture their talent. All swimmers have been set clear personalised outcome and process goal for the coming season, and we will be monitoring more closely than ever the successful completion of these targets."
Want to train in the same pool as Rio 2016 Olympians and potential stars of Tokyo 2020? Click here for details of our public SwimFit sessions in the London 2012 Legacy Pool.