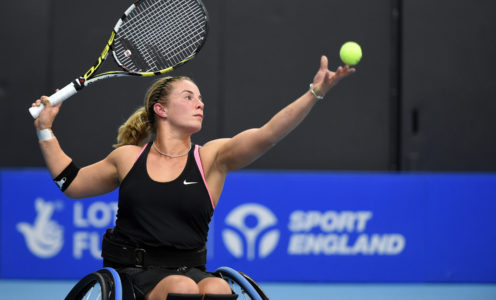 A host of Rio 2016 Paralympic Games medallists, including Britain's Lucy Shuker and Alfie Hewett, will join reigning Grand Slam champions in a star-studded Indoor Wheelchair Tennis Tournament being staged at the University of Bath next week.
Two-time Paralympian and Sports Performance graduate Louise Hunt will also return to her former training base for the prestigious ITF-1 level competition, organised by the Tennis Foundation and taking place on the eight indoor courts at the Sports Training Village from November 15-19.
Spectators are welcome and admission is free.
Hunt and Shuker (pictured top) will contest a women's singles draw that features seven of the ten top-ranked players in the world, including Paralympic women's doubles gold-medallist Aniek Van Koot and French Open singles champion Marjolein Buis, both from the Netherlands.
Shuker, who won women's doubles bronze with Jordanne Whiley at both London 2012 and Rio 2016, has been in outstanding form since the Paralympic Games and arrives in Bath having won three successive singles titles – including her first-ever Super Series crown at the US Open USTA Championships.
That secured a place in the year-ending NEC Wheelchair Tennis Masters for Shuker, from Ash Priors near Taunton, and she is determined to keep her good form going in Bath.
"I am actually really looking forward to competing in Bath this year, I've had a recent string of successful tournaments and I feel in a really good place both mentally and physically," she said.
"Bath is very close to my home training base in Taunton and I'm looking forward to seeing a few familiar faces at the venue supporting me, that is always a benefit of a home tournament.
"I have trained at the University of Bath on a number of occasions. We had a one-week training camp there as part of ParalympicsGB's 'year to go' preparations before London 2012 and I believe there is still a very embarrassing banner in the sports centre from the early days of my career!
"Wheelchair tennis is a fantastic sport to watch and I would highly recommend coming down and checking out some play. The majority of the top players in the world will be action in preparation for the end-of-year Masters event at the Olympic Park in London.
"I'm very proud to be part of not only the most successful ParalympicsGB team ever but also the most successful Tennis Foundation team ever. We've all worked really hard as a team and the success in Rio was really down to individuals' drive and commitment."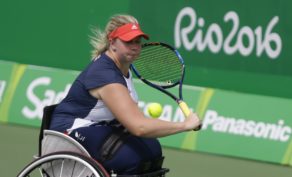 Hunt, from Swindon, is currently ranked 13th in the world and is looking for her third singles win of the year after victories in Israel and Romania.
"This will be my last tournament of the year, so I'm looking to finish 2016 on a high," said Hunt, who represented ParalympicsGB at both London 2012 and Rio 2016.
"I'm really excited to be playing a tournament in Bath this year. It's my first UK event post Rio, so it'll be nice to be back on home soil – especially at my University. I always loved attending there and it will be great to compete somewhere I know so well."
A world-class men's singles entry features Hewett, who won the Wimbledon 2016 doubles title with Gordon Reid before claiming silver in both the singles and doubles at Rio 2016.
Among his opponents in Bath will be French Open champion Gustavo Fernandez of Argentina and two bronze-medallists from Rio, Joachim Gerard of Belgium and Japan's Shingo Kunieda.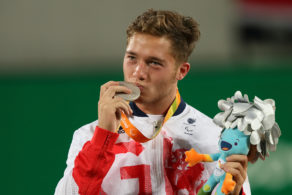 Headlining the quad singles entries is Britain's Andy Lapthorne, a former Australian and US Open champion who won singles silver and doubles bronze at the Paralympic Games this year.
It is the first time the University of Bath has hosted an international wheelchair tennis tournament and Director of Tennis Barry Scollo is anticipating a fantastic few days of competition.
"It is great we have a wheelchair event here in Bath for the first time and for it to be an ITF Grade-1 tournament really is special," he said.
"It also adds to the University's 50th anniversary celebrations and it's nice that tennis can play its part during this time.
"The event has attracted top quality players from around the world, so please come along and give them your support."
Tournament Director Kirsty Thomson from the Tennis Foundation added: "We are delighted to be organising this tournament in Bath for the first time. We have a world-class entry and we are excited for a great week of competition taking place in the world-class facilities of the University of Bath."
As well as watching world-class wheelchair tennis, visitors to the Sports Training Village will also be able to take to the indoor courts themselves during a free 'come and try' session from 11am-1pm on Saturday, November 19. It is open to everyone, disabled and non-disabled, and all equipment will be provided.
For more information about the tournament please visit the Tennis Foundation website by clicking here.
For more information about the tennis programme at the University of Bath, click here.