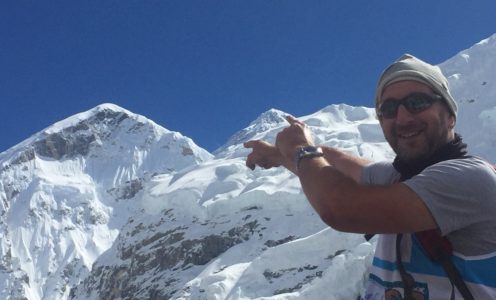 University of Bath Head Swimming Coach Mark Skimming scaled new heights to raise £7,500 for Bristol Children's Hospital by trekking 3,000m to Everest Base Camp in Nepal.
Mark took on the 12-day challenge to thank the doctors and nurses that saved the life of his young son. Now an active three-year-old, Albert was born 13 weeks early and spent his first three months in intensive care after been diagnosed with chronic lung disease.
Mark described the trek – from Lulka at 2,800m altitude to Base Camp at 5,700m – as one of the great experiences of his life and is keen to do more fundraising challenges for The Grand Appeal, the Bristol Children's Hospital charity.
"I haven't got the words to adequately describe the experience," said Mark. "I wouldn't say it was spiritual but it was something I would happily go and do again, and happily go further. I would say to anyone, go and do it.
"I've got loads of photos and none of them do it justice, it was just beautiful. I was awake at 5am or 6am most mornings, so I was able to see more of the views before the clouds came in.
"We camped the whole time and we had real extremes of weather – snow, torrential rain and sun so strong I managed to burn my head to the point it peeled – but I didn't get altitude sickness and was fit enough to enjoy it all and appreciate what we were doing.
"One day we went from what was this magical woodland setting to above the tree line – beautiful woodland to rocks with a few shrubs – and the whole temperature changed but it was the best day of the walk, just fantastic.
"We went at a good time. It was the end of the monsoon season but it wasn't that busy on the way up and we were able to enjoy it when we reached Base Camp. On the way back down, we walked past a whole mass of people going up.
"We spent a good hour at Base Camp – plenty of time for photos and a hot lemon – but I can only imagine what it would be like at peak season, you'd have to grab a picture and move on.
"There was a group of 14 of us, all raising money for different charities, and it was one of the guy's birthday on the day we got to Base Camp. We had a team of sherpas with us and a chef who made a birthday cake on a little gasoline stove, it was brilliant.
"The next day we went up to Kalapathar where you're supposed to get a really good view of Everest. We set off at 5am in the pitch black and there was just a line of head torches going up. We got there and couldn't see anything because it was too cloudy! At least that gives me another reason to go back.
"I've raised around £7,500 in sponsorship for The Grand Appeal, which I'm really pleased about. Thank you to everyone who supported me and people can still make donations!
"I've told the charity that if they have any other challenges coming up I will quite happily do them. The support and dedication of all the Bristol Children's Hospital staff who have helped Albert get to where he is now, and no doubt the ones that will help in the future, is just priceless. Without them we would not have our amazing little boy."
To support Mark's challenge, visit www.justgiving.com/Mark-Skimming/ or text SKIM79 and the amount you'd like to donate (£1 – £10) to 70070.
Mark isn't the only University of Bath coach raising money for The Grand Appeal – Strength & Conditioning Coach Bob Smith is running a half-marathon every week during 2016 after Bristol Children's Hospital provided care for his daughter, Autumn, when she was taken ill.
The Grand Appeal is celebrating its 21st anniversary this year and has raised more than £40million in that time. To find out how you can support The Grand Appeal in its anniversary year, visit www.grandappeal.org.uk.