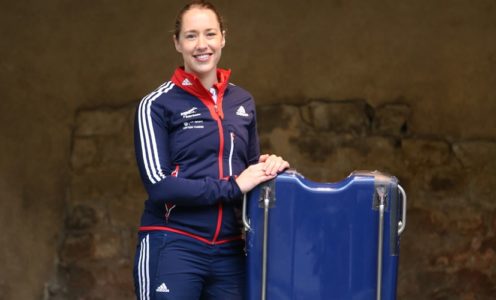 Olympic champion Lizzy Yarnold was just one-hundredth of a second shy of a bronze medal on her return to international action as the British Bobsleigh & Skeleton Association (BBSA) contested the first World Cup of the season. 
Yarnold, in her first appearance since winning Skeleton World Championship gold in March 2015, finished two places ahead of team-mate Laura Deas in the women's competition at Whistler, Canada.
University of Bath Mechanical Engineering PhD student Dom Parsons was eighth in the men's event but fellow Brit Jack Thomas, making only his second World Cup appearance, missed the cut for a second run and had to settle for 25th place overall.
Yarnold was pleased with her performance on the notoriously difficult Whistler track, saying: "[Coach] Eric [Bernotas] and I worked so hard for weeks for this result, doing everything we could to ensure my best performance, and we've had brilliant fun doing it.
"To know that I can bring it on race day is a big confidence boost. Fourth place is job done – I've conquered the Whistler track once more! Thanks to all of the team for their hard work."
Both Brits produced remarkably consistent times across the two runs, with Yarnold clocking 55.03 & 55.09 seconds and Deas coming down in 55.30 & 55.36.
"I'm very pleased with how that went," said Deas. "Whistler is a very tough track to start the season with. It asks a lot of questions of a slider and I was very happy to be able to go out there and produce two consistent runs and nail the starts as well.
"It's also great to be sliding with Lizzy again. We've had a really good vibe in the team and we help each other and push each other on. It was awesome to see her come back after her break and do so well."
The University of Bath-based BBSA skeleton athletes will next be competing on December 17 when the circuit switches to Lake Placid in New York State for Race 2.