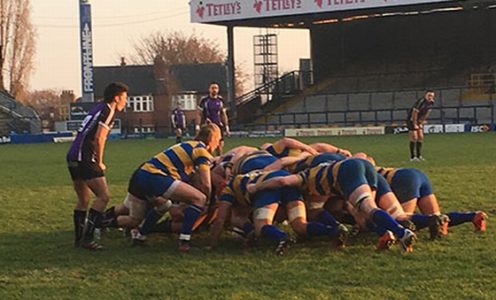 University of Bath Men's Rugby 1st XV moved to fifth in the BUCS Super Rugby table to end 2016 after beating Leeds Beckett University 23-8 at Headingley Carnegie Stadium on Wednesday (Dec. 14).
The result meant Bath would enter a six-week break with five wins and four losses from their opening nine matches, sitting six points behind Durham and three points ahead of Cardiff Met. in what appears to be evolving into a three-way mid-table battle.
A strong start on Wednesday afternoon from the visitors resulted in the first points on the board thanks to a drop goal from fly-half Ludi Hopkinson.
Leeds Beckett responded well, though, with Jack Barnard winning a penalty at a ruck inside the Bath half and David Mcilwaine slotting the kick to make the scores 3-3 after 11 minutes.
Mcilwaine then missed the chance to put his side in front after striking a post with a penalty attempt after 20 minutes.
Beckett regathered the ball but were unable to force their way over the tryline and Bath's Craig Duncan nearly profited with an interception but he couldn't quite hang on.
Bath did edge 6-3 ahead on 29 minutes when Harry Newborn was penalised and Will Flinn made no mistake with his long-distance kick from the 10-metre line.
The away side had more promising field position towards the end of the half but a strong Beckett scrum earned a penalty in their own 22 to relieve the pressure and avert the potential loss of more points.
And they could have levelled on the stroke of half-time after winning a penalty at the breakdown in Bath territory but Mcilwaine's kick was off-target to the right.
In a more lively second half, it was again the travelling team who started stronger – piling a long spell of pressure on the Beckett defence before hooker Tom Doughty finally went over following a powerful catch and drive.
The hosts weren't ready to go down without a fight, though, and rallied to score themselves three minutes later when Dan Leake found space on the wing and passed the ball inside to No. 8 Toby Francis who brought his team back into the game.
At 8-13, the importance of the next try was likely to prove crucial and, fortunately for Bath, it was they who capitalised on a drive when Alex Wood scored his first try of the season.
And the away team sealed the victory on 80 minutes with another lineout drive resulting in George Frampton crossing the line. Replacement George Humphrey crashed the conversion attempt off the post with last kick of the game to bring the curtain down on a 23-8 win.
Match stats
Leeds Beckett:
1. Conrad Cade 2. Harry Newborn 3. Rory Mason 4. Martin Dodds 5. Sam Cartwright 6. Jonny Teague 7. Jack Barnard 8. Toby Francis 9. James Elliot 10. David Mcllwaine 11. Charlie Venables 12. Ben Dixon 13. Tom Bullough 14. Dan Leake 15. Louis Brown
16. Xavier Valentine 17. Tom Driscoll 18. Tom Collins 19. Judd Newell 20. Sam Allen 21. Harri Collier 22. Olly Hutson
University of Bath:
1. Conor McGrath 2. Tom Doughty 3. Alex Wood 4. Will Britton 5. Mike Snook 6. Alex Weighton 7. Tom Kynge 8. Freddie Avis 9. Will Flinn 10. Ludi Hopkinson 11. Craig Duncan 12. Charlie Dunbar 13. Robbie De Bruyn 14. Dan Rowland 15. Darren Atkins
16. George Frampton 17. Austin Hay 18. Jake Buckingham 19. Scott Russell 20. Andrew Bevan 21. Hugo Stiles 22. George Humphrey 23. Jack Turner
Tries: Doughty, Wood, Frampton
Conversions: Flinn (1)
Penalties: Flinn (1)
Attendance: 350