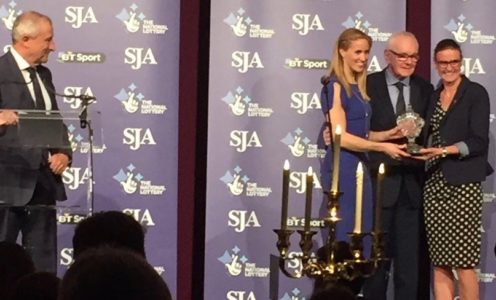 Heather Stanning, the British Army officer and double Olympic Champion who learnt to row and was nurtured into the British team whilst studying at the University of Bath, has won a national award.
She and Olympic rowing partner Helen Glover, who were coached in Bath by Paul Stannard as part of the GB Rowing Team Start programme, scooped the President's Award in the annual, national Sports Journalists' Association poll.
They received their trophy from Patrick Collins, SJA President and a long-time columnist on the Mail on Sunday and Sunday Times, and the duo were interviewed on stage by veteran broadcaster Jim Rosenthal at the special event at the Tower of London.
Stanning said of their remarkable unbeaten five-year and 39-race streak together which included two Olympic gold medals on the way: "We never felt complacent. We always respected the athletes we have raced against. It's a fantastic honour to receive this award in Olympic year after so many great performances in Rio."
Caroline Searle, since 1996 a part of the Team Bath set-up at the University, also won the Doug Gardner Award for Services to Sports' Journalism and to the SJA, at the same ceremony. Searle, a Bath resident and a University graduate, has worked in the Team GB communications team for seven Olympic Games as well as multiple Paralympic and Commonwealth Games. She has been the GB Rowing Team 's press officer for 15 years.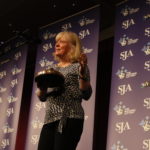 "I was totally shocked to receive such a prestigious award", said Searle. "Last year's winner was Sir Michael Parkinson which makes it doubly humbling really. It was fabulous to be recognised in a room packed with great journalists and athletes that I have so enjoyed working with over the decades."