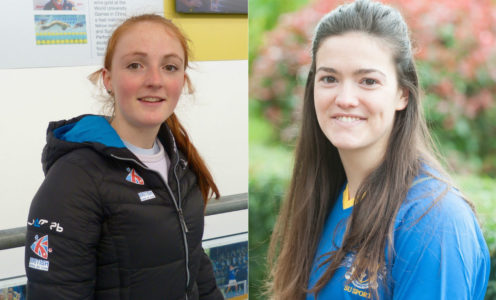 University of Bath students Elodie Wallace (left) and Alice MacAulay (right) are flying out to Almaty, Kazakhstan this week to represent Great Britain at the World University Winter Games.
Recognised as the second largest multi-sport Games in the world after the Olympics, the Winter Universiade – taking place from January 29 to February 8 – will feature more than 2,500 athletes.
Natural Sciences student MacAulay, supported by a Santander Sports Scholarship, will be making her second appearance at the Universiade having finished 14th in the giant slalom and 26th in the slalom at the 2015 Games in Granada, Spain.
She will compete in both events again, while freestyle skier Wallace – who studies Sport Performance – will contest both her specialist aerials event and make her debut in moguls.
Joining MacAulay and Wallace in the GB representation are Team Bath physios James Boyd and Beenish Kamal, who are among the 31 support staff working across the various sports in Almaty.
MacAulay is currently living and training in France while on a placement year at the Institut Laue-Langevin in Grenoble, a world-leading international research facility where she is working on determining the structure of a malaria parasite protein to help with the development of future antimalarial drugs.
"My aim is to better my result from the last Games and I am aiming for a top-15 result in both disciplines," said MacAulay, who won gold and silver at the Delancey British National Alpine Ski Championships in 2016.
"I know this is a big target, especially considering my results so far this season, but you need to have something to work towards and I by far exceeded my own expectations at my first Universiade.
"I learnt in Granada that anything can happen. Often at races people are competing on the local hill they have trained on hundreds of times before – very few people will have that advantage in Almaty.
"I am also more aware now of the scale of this event and the support that comes with it. After the last Games I was amazed by how many people had watched me competing on TV or the live stream."
Despite her close proximity to the Alps while living in Grenoble, MacAulay admits that training has been difficult this year due to a lack of snow and having to fit in work but she believes she is close to producing her best form.
"Unfortunately, due to the conditions so far this season, I haven't had the opportunity to train as much as I would like and often it has been easier for me to go to local races and treat them like training," she explained.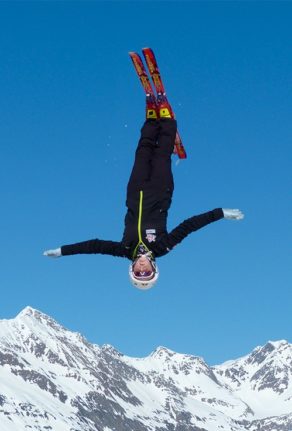 "I'm not skiing anywhere near as well as I know I am capable of but the Universiade will be different to what I have done so far and I hope this will give me the opportunity to ski to my full potential."
Wallace, who took part in the 2015 Freestyle Skiing World Championships, has put competition on hold this season to concentrate on her studies but could not resist the chance to take part in the Universiade.
"I'm looking forward to experiencing a big Games and being part of a multi-sport environment," said the 19-year-old.
"I've competed at the World Championships in my sport but this will be on an even bigger scale. I hope to do my best, land on my feet and learn plenty for future competitions. I'm excited to see the other sports as well, some I haven't been to before like ice hockey, and chat to athletes from around the world to find out about their lives."
Wallace will be GB's sole aerial skiing representative in Almaty but she is also competing in the moguls, a series of bumps on a steep piste used for technical turns and aerial maneuvers at high speed.
"I've never competed in moguls before but I'm always up for a challenge!" she said. "I went to France in November to do some training but the moguls section was closed off because of bad weather.
"I'm looking forward to giving it a try, though. There are some aerial skills that are transferrable – you still have somersaults and jumps – but you have to control your speed and use your legs to do the jumps in moguls, which will be the fun bit."
While her on-piste training has been limited, Wallace has been working on her fitness and flexibility by joining the University of Bath's gymnastics club.
"Tumbling is very similar to the moves I have to do in aerial skiing," she explained. "I'm enjoying it and we have a BUCS gymnastics competition at the end of February that I'm hoping to be involved in."
Wallace comes from a strong freestyle skiing background. Parents Jilly Curry-Wallace and Robin Wallace both represented GB at the Olympic Games, while older brother Lloyd – also studying Sports Performance at the University of Bath – is currently the only Brit competing on the World Cup tour.
Click here to find out more about the services provided to support student-athletes at the University of Bath.