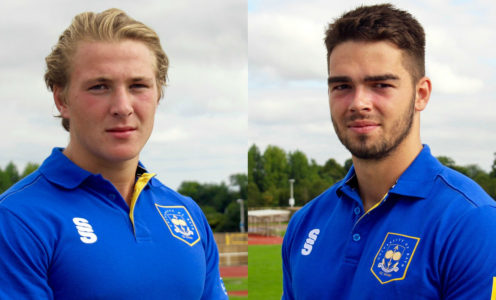 The University of Bath men's 1st XV produced a storming second-half display as they gave BUCS Super Rugby league leaders Hartpury College a mighty scare on Wednesday.
In their first match of 2017, the Blue and Gold – sponsored by Ikon Construction – got off to a great start as, from their first attacking lineout, Sports Performance student Darren Atkins went over for a try and Hugo Stiles added the conversion.
However, the home side hit back strongly with four converted tries of their own to go into half-time with a 28-7 advantage and that gap grew when they touched down again shortly after the restart.
Hartpury then lost a player to the sin bin and Bath took full advantage of their extra man, with Tom Doughty (pictured left) on the end of a driven lineout and Dan Rowland (pictured right) racing through the middle to touch down. Stiles converted the first of those tries as the visitors cut the lead to 33-19.
The momentum was now with Bath and they scored another unconverted try through hooker Doughty with six minutes to go but, despite forging other good opportunities, they couldn't quite force another score as Hartpury held on for a 33-24 victory.
The Blue and Gold could take plenty of positives from their performance, though, and will be looking to build on that when they welcome Cardiff Met to the Sports Training Village next Wednesday (February 1).
It is Bath's last home game of the Superleague season and they will be looking to finish on a high in front of a big crowd. Kick-off is 2pm on the athletics in-field and admission to spectators is free.
Find out more about studying and playing rugby at the University of Bath in this fantastic video by BUCS…