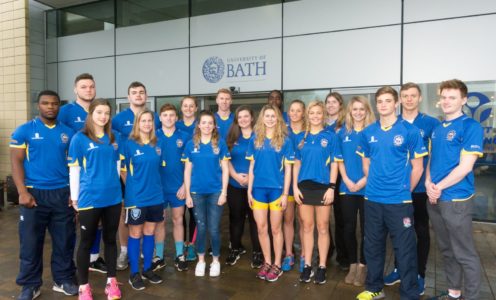 The depth of talent among student athletes at the University of Bath has been demonstrated once again after 22 potential stars of the future were awarded sporting scholarships for the 2016-17 academic year.
Competing in sports as diverse as alpine skiing, clay pigeon shooting, modern pentathlon and rowing, all have demonstrated their potential to succeed both academically and on the national and international sporting stage.
Among those selected are Team Bath Netball and England U21 player Imogen Allison; Lily Honor, who has played professional football in England and the US; England Women's Rugby international Lottie Holland; Welsh hockey international Eloise Laity; European Junior Swimming Champion Tom Derbyshire; and athletes Cameron Chalmers and Charlotte Mclennaghan, who both competed at the IAAF World Junior Championships this year.
Scholarships are supported by alumni and friends of the University, who are passionate about giving talented young people the opportunity to benefit from Bath's sporting and academic environment.
All scholars receive a cash award that runs over the period of their course and helps them meet the demands of training, competing and studying at a high level.
This year marks the 40th anniversary of the first scholarships being awarded and Stephen Baddeley, Director of Sport at the University of Bath, is delighted to see such a strong cohort of student-athletes benefiting from the financial and lifestyle support.
"This is the most vibrant, exciting and dynamic sporting environment in the country and the breadth of talent among our 2016-17 scholars reflects that," he said.
"The University of Bath is a wonderful place to progress, both academically and competitively, and we look forward to seeing how the scholars perform in the years ahead.
"The scholarships would not be possible without the generous support of the alumni and friends of the University. I would like to thank them and congratulate the scholars on their awards."


This year's sporting scholars are:
The Matrix Scholarship is new for 2016-17 and has been provided by Matrix Fitness UK, who supplied state-of-the-art equipment for the newly-refurbished Team Bath Gym.
British canoe slalom champion Martyn Hedges was the first student-athlete to receive a University of Bath sporting scholarship in 1976. Other notable recipients include Olympic medallists Samantha Murray (modern pentathlon) and Michael Jamieson (swimming).
American Footballers Ikem Okwudiafor and Austin Flanary, postgraduate students in Computer Science and Innovation & Technology Management respectively, are being supported by the American Fund for student-athletes from North America.
Click here to find out more about sporting scholarships at the University of Bath, as well as other ways we support student-athletes.