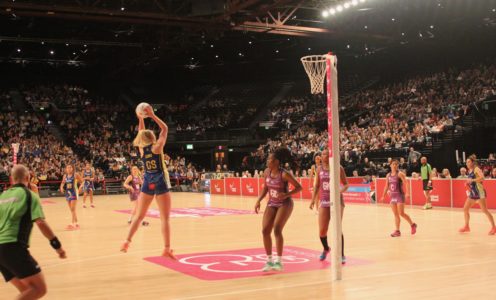 Team Bath Netball provided a thrilling climax to the Vitality Netball Superleague Super Ten for a second successive year as they battled past Hertfordshire Mavericks in an epic encounter on Saturday.
Roared on by a large army of travelling supporters at the Genting Arena in Birmingham, the Blue and Gold – sponsored by Sitec – went blow for blow with Mavericks during three evenly-matched and physical quarters before finally edging clear in the fourth to record a pulsating 49-42 success.
It maintained Team Bath's 100 per cent record for the 2017 season and set them up perfectly for their first home match, against Loughborough Lightning – who have also won their opening two matches – at the University of Bath on Monday, March 6 (7.45pm).
Mid-court dynamo Mia Ritchie said: "We seemed to make it tough for ourselves but we also knew at the end of the third quarter that there was no way we were going to lose the game, no way at all. Credit to the defenders for turning the ball over massively throughout and in the fourth quarter we started to reward them at the shooting end.
"The fans enjoyed it and it's important for us a team to come through a game like that and win it. There will be a lot more games like that to come and that will stand us in good stead."
Layla Guscoth, who was outstanding in defence against her former franchise, added: "It's always a good contest between Bath and Mavs – I'm glad to be on the winning end of it this time! Both teams wanted to win it so much.
"The fans were absolutely incredible, it was so nice to look up in the stands and see all the Blue and Gold banners waving. I'm really looking forward to my first home game against Lightning now."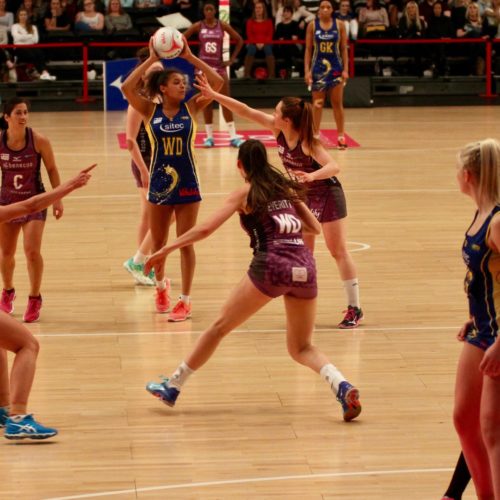 Imogen Allison during Team Bath victory over Hertfordshire Mavericks in the netball Superleague
The previous four matches during Super Ten – which saw all of the Superleague franchises in action during one day – had been relatively one-sided affairs but there was nothing to choose between Team Bath and Mavericks during the opening three quarters of a feisty encounter.
A tense opening period saw the teams exchange goals early on before the Blue and Gold pulled away to lead 10-5, only for Mavericks to peg them back once again.
Captains Eboni Beckford-Chambers and Vicklyn Joseph were called in to cool their teams down after a couple of overly-physical challenges but it was Team Bath who finished the quarter with their noses in front thanks to two late goals from Chelsea Lewis.
The Welsh shooter was struggling for her usual consistency in front of goal but kept plugging away during a second period that saw both defences continue to produce concerted pressure.
Mavericks took the lead for the first time as they edged into a 14-13 advantage, then – after a period where the teams went goal for goal – they increased the gap to 22-19 with less than a minute of the half remaining.
Lewis again scored twice in the dying stages, the second coming right on the buzzer, as Team Bath cut the half-time deficit to 22-21.
Team Bath made some changes for the third quarter, with Shantal Slater coming on at GS, Lewis moving to GA and University of Bath student Imogen Allison returning at WD for her Team Bath Superleague debut.
And she made her presence felt during a physical 15 minutes – being warned by the officials at one point – which again saw little to choose between the two teams. The lead changed hands several times but it was Team Bath who held a narrow 33-32 advantage going into the final quarter.
With the defence continuing to dominate and securing plenty of turnover, Team Bath finally clicked going forward and they began to pull away as Slater and Lewis found a clinical edge to their shooting. The supporters had plenty of opportunity to wave their Blue and Gold banners as their team pushed ahead to record a hard-fought 49-42 victory.
Director of Netball Jess Thirlby said: "In that second half we created a lot more turnover ball but it wasn't just that, the whole unit was more clinical.  I thought Mia and Rachel [Shaw] were great around the circle edge, too.
"We wanted to focus on the positives and, yes, we could have taken an earlier lead perhaps with some more consistency but I thought we got a lot of ball into the circle and the shooters fell just a bit short.
"Imogen [Allison] made a brilliant impact in the second half. That was her debut and she not only contributed a lot to the turnovers but put a lot of pressure on.
"There is a lot of history between us and Mavericks. The games are always tight and well contested. I thought our supporters were fantastic. There seemed to be so many of them and they made a lot of noise.  We commented on it from the start on the bench. It was good to hear."
Tickets are on sale now for the home match against Lightning. Visit https://www.teambath.com/events/ticketline/ for further details.
Team Bath Netball are sponsored by Sitec, Mogers Drewett are their Education Partners, Centurion Wealth Management are supporting the team's performance analysis capabilities, Surridge are the kit supplier and Skins provide the team with compression wear.
Match stats
Team Bath Netball 
Starting seven: GS Chelsea Lewis; GA Laura Rudland; WA Rachel Shaw; C Mia Ritchie; WD Vangelee Williams; GD Layla Guscoth; GK Eboni Beckford-Chambers. Bench: Imogen Allison, Sam Cook, Paige Reed, Shantal Slater.
Changes: Q2: Allison – bench to WD, WD to bench; Williams – WD to bench, bench to WD. Q3: Slater – bench to GS; Lewis – SG to GA; Rudland – GA to bench; Allison – bench to WD; Williams – WD to bench. 
Hertfordshire Mavericks
Starting seven: GS Vicklyn Joseph; GA Sophie Hankin; WA Michelle Drayne; C Keshia Grant; WD Zara Everitt; GD Razia Quashie; GK Summer Artman. Bench: Halimat Adio, Sophie Drakeford-Lewis, Lindsay Keable, Rose Morgan-Smith, Ashleigh Neal.
Quarter scores (Team Bath second)
Q1: 10-12. Q2: 22-21 (12-9). Q3: 32-33 (10-12). Q4: 42-49 (10-16).