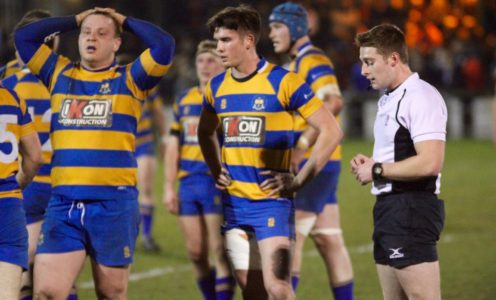 A valiant display from the University of Bath men's 1st XV was not quite enough to earn them a trip to Twickenham as Hartpury College held on to reach the BUCS Rugby Championship final.
Hartpury – the BUCS Super Rugby league champions and unbeaten at home all season – were forced to defend desperately on their own line for the last ten minutes of an enthralling semi-final as Bath threw everything at them in an ultimately fruitless bid to overturn a 26-20 deficit.
The Blue and Gold – sponsored by IKON Construction – had led 10-7 at half-time as Sam Leeming's converted try for Hartpury was cancelled out by Tom Kynge's close-range touchdown plus a conversion and penalty from Will Flinn.
Adam McCarthy then darted through to extend their advantage three minutes into the second half, with Flinn again adding the extras, but Hartpury responded with Maliq Holden and Jonas Mikalcius tries to edge ahead.
A converted penalty try, moments after Jack Davies was sin-binned, looked to have settled the game but back came Bath and a Flinn penalty set up a frantic last ten minutes. The visitors were just a couple of metres from scoring a potential winning try but a knock-on ended their chances.
Head Coach Mark Lilley said: "Oh, I'm so proud of the boys, they have prepared so hard over the past four weeks. They are absolutely gutted but I am just delighted with the effort they put in there.
"I was actually quite calm in the last couple of minutes. We were sticking to our processes and unfortunately we just knocked it on but that's the difference in these sorts of games. We said it would be a tight one and that's as tight as it gets.
"Hartpury are a really good outfit and they just got that momentum shift in the second half. We had bodies lying everywhere but that just shows the resilience of our boys. We've tried to build a culture of resilience within these Bath boys and they showed that tonight.
"People probably thought we would roll over but that's not what we do. We came straight back in that game and we are really, really, really disappointed at not coming out of this game with a win – that shows how far we've come."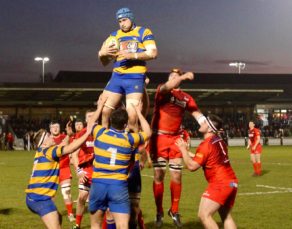 Captain Will Britton aded: "Heartbreaking is the best way to describe it. It was our mistakes and our discipline that cost us in the end but I cannot fault the work rate of everyone, it has been an honour to lead the boys this season. I'd like to thank everyone at the University for their support too."
Fellow second-row Jack Davies added: "We are devastated but we have to use the pain we are feeling now as fuel for next season and the seasons beyond.
"Hartpury are unbeaten at home this season but I felt we were the better team for 60 minutes of this game and we had them really rocking at the end. Games like this will only make us better and we'll be looking to put a W in the column after that kind of performance next year."
Bath thought they had made a dream start to the match when, after applying pressure on the Hartpury line from the kick-off, the ball was spread wide and full-back Craig Duncan raced over to touch down. However, the celebrations were cut short as he was adjudged to have knocked on.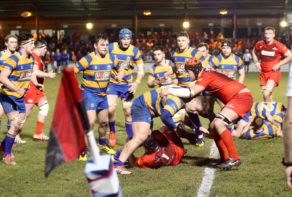 Hartpury also missed a chance to take the lead when Leeming's penalty kick came back off the upright – the second week running Bath had survived in such a manner – before Flinn was narrowly off target with a long-range penalty of his own at the other end.
There was a scare for Bath in the 16th minute when home hooker Luke Stratford intercepted a stray pass and raced through but he didn't have the pace to reach the line.
However, the visitors were not so lucky in the 24th minute when Ludo Hopkinson's chip was charged down by Jamie Forrester and hacked into the corner. Bath got back to thwart the first attempted pick-up but Leeming was on hand to collect the loose ball and charge over for the opening try, which he converted himself.
Bath may have felt they should have been only facing 14 men at the time, with Rob Fuller fortunate to escape a yellow card after catching Robbie De Bruyan with his elbow moments earlier.
But the visitors responded brilliantly to the setback and, after a series of sorties on the Hartpury line, number eight Kynge managed to reach out and dot the ball down. Flinn's conversion leveled the scores, then he put Bath 10-7 up with a fine kick after the hosts were penalised at a scrum.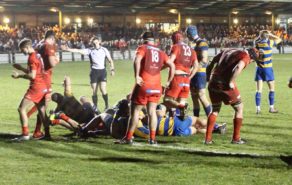 It got even better for the Blue and Gold three minutes into the second half as they extended their lead to 17-7. After kicking a penalty to the corner, they won the lineout and flanker Adam McCarthy brilliantly found a gap in the Hartpury defence to dart through and score a try converted by Flinn.
That seemed to spark Hartpury into life and they piled forward in the next 20 minutes, scoring three times despite some heroic defending from the visitors.
Holden went over in the corner and Leeming's kick from the touchline cut the gap to 17-14, then Mikalcius touched down to put Hartpury ahead before – moments after Davies was shown a yellow card – the hosts were awarded a penalty try.
Leeming's conversion put Hartpury 26-17 up but Bath rallied magnificently once again and, when the hosts were ruled offside, Flinn kicked the penalty to close the gap to a converted try.
With Davies back on the pitch, it was Bath's turn to ramp up the pressure and they set up camp on the Hartpury line in the last ten minutes. Replacement Tom Pashley was sent to the sin bin as the hosts defended desperately but Bath couldn't quite find a way through, with a knock-on in the dying seconds allowing the hosts to clear their lines and secure their place at Twickenham.
Match stats
Hartpury College: 1 Alfie Barron, 2 (16) Luke Stratford, 3 Alex Gibson, 4 Henry Harper, 5 (2) Rob Fuller, 6 Harry Wilson, 7 Callum Bowden, 8 Seb Negri (c), 9 Harry Cochrane, 10 Sam Leeming, 11 Jonas Mikalcius, 12 Jamie Forrester, 13 Jamie Cooke, 14 Maliq Holden, 15 Victor Pisano. Replacements: 16 Lewis Grinsell, 17 Joe Wrafter, 18 Jack Spencer, 19 Tom Pashley, 20 Morgan Morris, 21 Alex Cox, 22 Lewis Dennett.
Tries: Leeming, Holden, Mikalcius, penalty.
Conversions: Leeming 3.
University of Bath: 1 Connor McGrath, 2 George Frampton, 3 Alex Wood, 4 Jack Davies, 5 Will Britton (c), 6 Freddie Avis, 7 Adam McCarthy, 8 Tom Kynge, 9 Will Flinn, 10 Ludo Hopkinson, 11 Jake Allen, 12 Charlie Dunbar, 13 Robbie De Bruyan, 14 Dan Rowland, 15 Craig Duncan. Replacements: 16 Jordi Den Hartog, 17 Jack Buckingham, 18 Austin Hay, 19 Tom Bottoms, 20 Chris Barry, 21 George Humphreys, 22 Jack Turner.
Tries: Kynge, McCarthy,
Conversions: Flinn 2.
Penalties: Flinn 2.