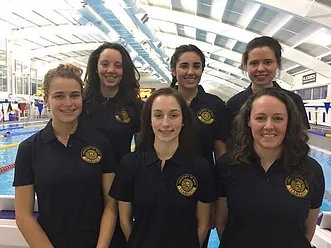 Italian-born Ilaria Brandimarte was just nine years old when she first became a synchronised swimming national champion.
Since then, she has gone on to win an outstanding haul of senior national championships medals, including seven at the 2015 ASA National Championships, and is in the process of gaining a British passport in order to be involved with GB Synchro.
But for now, her attention is turned to establishing Team Bath Synchro Club – the first ever synchronised swimming club based at the University of Bath – where she hopes to offer opportunities for young boys and girls across the South West to get involved in synchro.
"Synchronised swimming is definitely a growing sport in the UK – especially since the London Olympics in 2012," she says. "We are getting many more people involved in the sport. For example, at the last national age group championships in Gloucester there were higher numbers than ever before.
"Our aim is to offer a fair and equal opportunity to everyone and spread the synchro movement throughout local schools across the region."
Ilaria's bold ambitions stem from her experience when moving from Italy to the University of Bath to study. With no student synchro club available, and regional clubs without an effective system for supporting swimmers beyond the age of 18, Ilaria quit the sport she loved.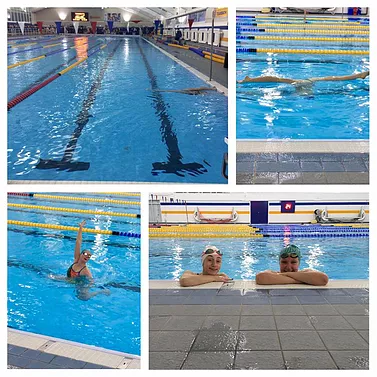 But after an astonishing comeback performance at the 2015 Championships she decided to pursue her goal of establishing a university synchro club to give post-18 swimmers a chance to continue the sport.
"The problem we have at the moment is that we have clubs who develop synchronised swimmers up until the age of 18," Ilaria continues. "But at senior level these athletes don't have the support.
"So when these 18-year olds go to university they quit the sport. That's why the original aim of the Team Bath Synchro Club is to set up a full-time programme for competitive athletes, alongside our ambitions to establish junior and masters programmes so that we are open to all.
"We want to secure a BUCS programme at the University of Bath, and become the first club in the country to include competitive athletes in our BUCS programme."
The club, only set up in September 2016, is set to send a small team to the upcoming National Championships set to take place on 22 and 23 April.
That competition will be followed by a club appearance at the more regional Walsall Trophy at which a larger team is set to compete.
And Chair Ilaria sees the two competitions as good opportunities to put the club on the map.
"At the national championships, even though we're only sending a small squad, we're aiming to come away with at least two medals.
"The Walsall Trophy in May will be an opportunity to hopefully take some more swimmers to a competition and we hope to win more events. Coming back with medals from these competitions will help to really establish Team Bath Synchro Club."
Closer to home, the short-term goals of the club are to increase the number of swimmers and offer opportunities to individuals interested in getting involved or getting their children involved with the sport.
On 4 June the club is hosting taster sessions for both junior and adult swimmers looking to give synchro a try.
There will also be a summer camp from 18-21 August open to British and international athletes looking to improve their techniques.
"Everyone is more than welcome to join us for our taster sessions in June," Ilaria says. "There are no limits in terms of age and skills.
"We're trying to see how many people in the area are interested in synchro and might be interested in joining our club here. Exactly the same is the case with our masters [adult] session; everyone is more than welcome – both men and women.
"Both sessions will be a lot of fun with music to swim to. There will be a lot of improvisation and we will explore individuals' stamina in the pool. But it will be a very basic session dedicated to having fun and allowing people to enjoy it."
To find out more about Team Bath Synchro Club sand its upcoming events, visit their website.