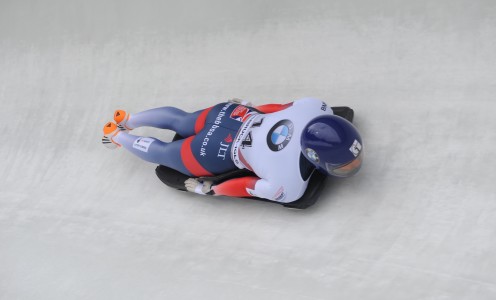 Great Britain Skeleton have thanked Donna Creighton for her "wonderful contribution on and off the ice" after announcing that the 31-year-old will be leaving the University of Bath-based programme this summer.
Creighton enjoyed a medal-laden career after joining the programme via the Talent ID scheme in 2004, winning the overall Intercontinental Cup (ICC) competition in 2015 and finishing third on the same circuit this season. She also competed at five World Championships between 2009 and 2017, and was a reserve for the 2010 Winter Olympic Games in Vancouver, famously won by Amy Williams.
"It's been a very successful 13 years and I've only got fond memories of my time with the team," said Creighton, who raced more than 100 times for her country. "It's moulded me into the person that I am today and I'm so grateful for the opportunities I've had here.
"My aim was to make it to the Olympics in Pyeongchang next year but I understand that competition for places is very tough and that decision was therefore taken out of my hands.
"The pinnacle for me would have been to compete in the Olympic Games but, as hard as it was, one of the highlights was being the reserve athlete at 2010 Olympics – that was an amazing experience."
A former heptathlete who also enjoyed a range of other team sports, Creighton has been a hugely positive influence both on and off the ice and GB Skeleton Performance Director Andi Schmid was full of praise for her contribution to the programme as a whole.
"Donna is a model athlete," he said. "She was always highly professional in everything she did and we would all like to thank her for her dedication to the team over the past 13 years.
"To have competed at five World Championships shows her consistency and longevity in what is a physically and mentally demanding sport. It was just the last step to a World Cup medal and an Olympic place that didn't quite happen for Donna, and that was due to the extent of the internal competition as much as anything.
"It's not only her own achievements that Donna deserves praise for: she also played a part in the success of others. She was part of a team that pushed each other on to beat the best in the world and she has also been a really positive role model for the younger generation of sliders."
Great Britain Skeleton is based at the University of Bath, training in the high-performance gym and on Britain's only outdoor push-start track. Click here for more information.