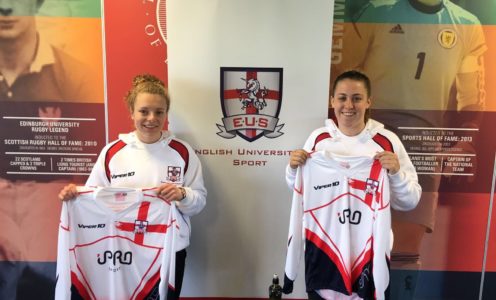 Four University of Bath footballers represented England Universities at the recent 2017 Home Nations tournament in Scotland.
Sport Performance student Flo Fyfe and Emily Donovan, who studies Sport and Social Sciences, were in the women's team that beat Wales 3-1 but lost on penalties to Scotland after drawing 1-1.
James Stinson and Lee Sweet, who are both in the third year of their Sport Performance course, played for the England men's team that drew 0-0 with Wales and 1-1 with Scotland. Northern Ireland had to pull out of the tournament.
Fyfe's travel to Scotland was partly financed by support from the Team Bath Elite Athlete Fund. In her first year at the University of Bath, she also plays for Arsenal Ladies and was grateful to be part of the Home Nations.
"The tournament was a fantastic experience with a great bunch of girls," she said.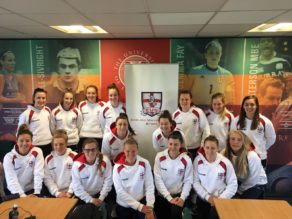 "Against Wales we put in a strong team performance and came out with a convincing 3-1 win. The previous day Scotland had beaten Wales 3-0, so the final game would decide the winners of the tournament.
"Scotland were a much stronger opposition and are also known to be our rivals. I started the game on the left wing and played the full 90 minutes. England were on top the whole game but, due to factors such as the wind, we were unable to take our chances and the full-time score was 1-1.
"I took the first penalty in the shoot-out and scored but we then went on to lose after missing three of our kicks. That meant we came second out of the three teams, which was a disappointing result that I feel we didn't deserve. We had a very talented team and were definitely capable of winning.
"Overall, though, the tournament was a great event to be involved in. There was lots of interaction between the sports [football, hockey and rugby], and it was good to all be together representing the country.

"The women's football team was a great group. Considering we'd only met as a squad once prior to the tournament, we all got on really well and played like a team that had been together for years.
"It was a hectic schedule with one training session and two games within a three-day period but as elite athletes we all coped well. It was definitely something that I would do again and was great to be involved in!
"I am currently playing for Arsenal Ladies Reserves having recently transferred from Bristol City. I'd been at Arsenal since the age of nine and transferred to Bristol when I moved to Bath, but Arsenal asked me to go back for the rest of the season.
"We are looking to win the reserve league this season, although we have strong competition from Chelsea. We also have the FA Development Cup final later on this season – we won it last year against Sheffield so it would be good to win two seasons in a row."
Click here to find out more about the Elite Athlete Fund and other ways the University of Bath supports its student-athletes.