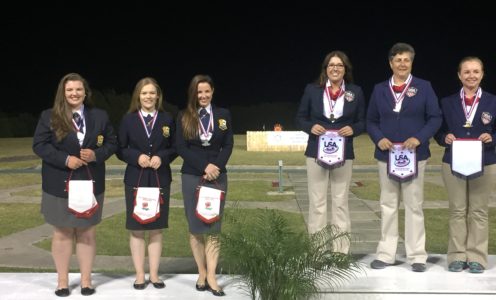 University of Bath student Emma Stacey helped England win a superb team silver when she contested the CPSA/NSCA World English Sporting Clay-Pigeon Shooting Championships in the United States.
The Politics & International Relations student, who is supported by a Santander Sports Scholarship, also finished 14th in the individual competition – a nine-place improvement on her previous Worlds showing – and was the top Brit with seventh spot in the main preliminary event.
The championships took place at the American National Shooting Complex in San Antonio, Texas – the home of American shooting – and Stacey's travel costs were supported by the Team Bath Elite Athlete Fund.
"Shooting is largely a self-funded sport, with only minimal financial assistance from the national governing body, so to have this support was fantastic," she said.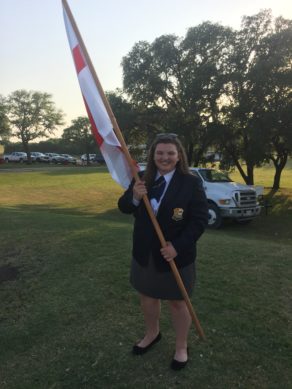 "It ensured I could practice properly both before I went and when I was there. I am very grateful to all at the University of Bath for their support and help, and I am so pleased to be part of Team Bath.
"Being a recipient of a Santander Scholarship has also helped me so much, as it has allowed me to greatly improve my training both in the gym and in the field. I now have a personal trainer, which has vastly improved both my strength and fitness, and my scholarship has also allowed me to enter competitions and practice on a much more frequent basis.
"I am certain this is a key reason why I have shot three new personal bests in the last two months."
Stacey was the youngest of the three England ladies to qualify for the World Championships, which involved some new challenges.
"American clay targets are different to the ones we shoot in the UK as they are heavier and smaller, so upon arriving in the US we had a few days of team training to get used to these differences," she explained.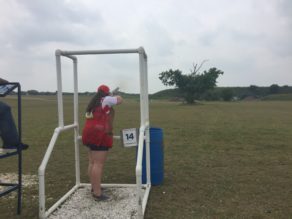 "The main event is held over two days with 100 targets shot each day. This was my second time competing at the World Championships and I was very pleased to improve on my performance from last year, especially since I was shooting in extreme heat compared to what we train in in the UK and it was the first time I had shot American targets.
"Next year I aim to finish in the top ten or hopefully top five."
Stacey has a busy few weeks ahead as the shooting season starts in earnest. The English Open in Sporting Clays is taking place on Wednesday (May 10) and the British Grand Prix FITASC, the international version of sporting clays and a World Cup event, is in three weeks' time. She will also be competing at the European Championships in June and another World Cup in July, alongside various selection shoots.
Click here to find out more about how the University of Bath supports its student-athletes.