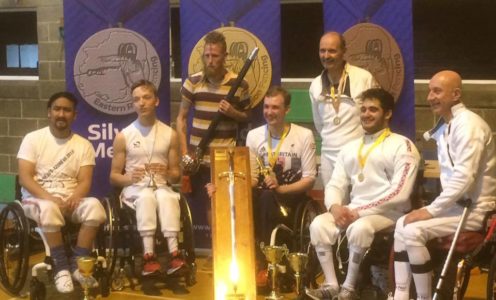 University of Bath-based wheelchair fencers Piers Gilliver and Dimitri Coutya continued their excellent form as they won seven titles between them at the 2017 British Disabled Fencing Association National Championships.
Rio 2016 silver-medallist Gilliver, a sporting ambassador for Team Bath partners MJ Church, took gold in the men's Category A epee, foil and sabre before being awarded the Wilkinson Sword Master at Arms Trophy.
He also shared the Vera Burge Trophy for best personal performance with training partner Coutya, who was crowned as national champion in both the Category B foil and epee during the weekend's competition in Luton.
Both Gilliver and Coutya are coached by Peter Rome and train in the fencing salle at the University of Bath Sports Training Village, also sparring with Pentathlon GB's elite athletes and Bath Sword Club.
They have won a host of titles on the international World Cup circuit already during 2017, including three gold medals between them in the Netherlands earlier this month.
Pictured: Piers Gilliver (centre) and Dimitri Coutya (second from right) with their fellow prize winners at the 2017 British Disabled Fencing Association National Championships