Team Bath Netball celebrated the 2017 season when the Superleague, U21 and U19 squads got together for the annual Player of the Season awards dinner.
Attacking ace Rachel Shaw won the Superleague Players' Player prize, while the Coaches' Player award went to star defender Layla Guscoth after a season where the Sitec-sponsored Blue and Gold reached the Final Four.
MJ Church ambassador Samantha Cook won the public vote for Fans' Player of the Year and the Endeavour Award went to England U21 international Imogen Allison, a King Sporting Scholar at the University of Bath.
The U21 Players' Player award went to a University student, Imogen Spark, while Superleague training partners Ella Powell-Davies and Abi Robson won the Endeavour and Coaches' Player awards respectively.
Spark said: "I am really grateful that the players voted for me. We have had a very strong season and I'm really happy that they chose me to be Players' Player."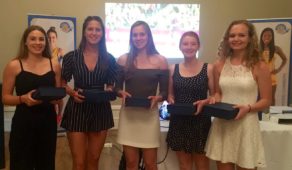 Robson, who has been selected to tour New Zealand with the England U19 squad this summer, was part of the successful England U21 squad that won Netball Europe this season along with Shona O'Dwyer, who won the U19 Coaches' Player award
O'Dwyer said: "It was a massive surprise, I was very happy and really honoured. It was a great award to receive."
The U19 Players' Player accolade went to Kirsty Harris and Lauren Wood took the Endeavour Award.
Harris said: "I wasn't expecting that at all. When my name was called it was a big shock but I'm really happy and it's really good to have got it."
Director of Netball Jess Thirlby said: "It is always important for us as a franchise to recognise the outstanding performances of our teams, players and staff across the season, and to take a moment to say thank you to the team behind the teams who often go unnoticed.
"I always have a huge sense of pride to see everyone in the room together – players past, present and future and the coaches that have supported them on their journeys to date.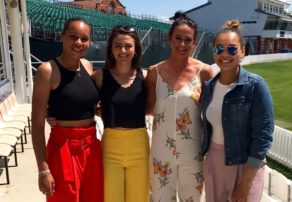 "The Superleague season in particular was a rollercoaster and so this was a chance to take stock and recognise all that we have achieved, not least the upturn in form that got us to the finals weekend.
"It was a season with many firsts too and our inaugural U21 team did a fantastic Job in representing the Blue & Gold, as did our talented U19s. I'd like to say a huge thank you to everyone for their efforts."
Team Bath players also attended the Netball South West Goalden Globes Awards, a celebration of grass-roots volunteers and players across the region.
Team Bath Netball are sponsored by Sitec, Mogers Drewett are their Education Partners, Centurion Wealth Management are supporting the team's performance analysis capabilities, Surridge are the kit supplier and Skins provide the team with compression wear.