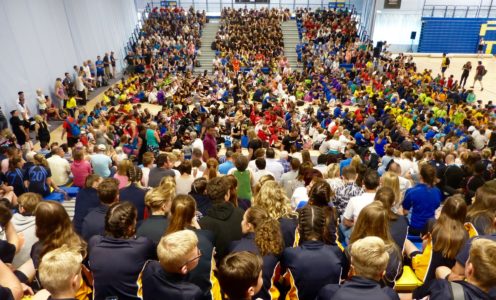 Hundreds of youngsters from across the South West demonstrated their sporting skills in the inspirational surroundings of the University of Bath Sports Training Village (STV) on Wednesday as they competed in the Summer School Games.
Pupils from Bristol, Bath and North East Somerset, North Somerset and South Gloucester who had qualified through previous competitions took part in the annual event, which was organised by the West of England Sports Trust (Wesport).
They made full use of the facilities at the £30million STV, with track and field taking place on the outdoor athletics track, tennis on the indoor and outdoor courts, tri-golf and inclusive cricket on the artificial pitches, rounders on the Eastwood pitches, modern pentathlon in the sportshall and gymnastics in the jumps & throws hall.
Before the action began, the youngsters were treated to an opening ceremony featuring performances by City of Bath Rhythmic Gymnastics Club and dancers from St Gregory's Catholic College in Bath, as well as a motivational speech from Rio 2016 Paralympics swimming gold-medallist Stephanie Millward.

"Dreams are something you have when you are a child and I always want to encourage people to follow their dreams, like I did," said Millward, who trains in the London 2012 Legacy Pool at the STV.
"This is such a great event. You see the smiles on the children's faces and the support they are giving each other. Sport is so important as it keeps both your body and your mind fit, you learn team-work and you get to meet new people and make new friends – it is a great opportunity for everyone taking part.
"The University of Bath is an amazing place, it is incredible how many different sports it can host. All of the children here today will feel special, like they are Olympic athletes."
Among the volunteers helping to ensure the day ran smoothly were Young Leaders from local schools and colleges.
Andrea Arlidge, Chair of the Wesport Board, said: "Today is a really great celebration of competitive school sport in the West of England and we would like to say a massive thank you to all of the volunteers for helping to make it possible."
The Summer School Games continued a busy few weeks of school sport at the Sports Training Village. The Avon, Bath & North East Somerset, North Wilts and West Wilts Athletics Championships all took place on the same track used by newly-crowned British Champions Eilidh Doyle and David King for their training.
Hayesfield, King Edward's and Ralph Allen schools in Bath also staged their sports days at the STV, as will Oasis Academy in Bristol next week.
There will be plenty more sporting opportunities for youngsters during the forthcoming summer school holidays, with Team Bath Tribe staging camps in athletics, badminton, football, hockey, tennis, trampolining and much more from July 24 to August 25.
Click here for more information about Team Bath Tribe camps and opportunities for school groups at the STV.
Another wonderful day of competitive school sport at the University of Bath Sports Training Village, well done to all who took part from across the South West!

Pubblicato da Team Bath su Mercoledì 5 luglio 2017