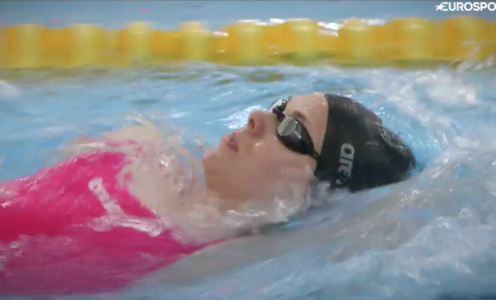 University of Bath duo Jacob Paul and Anna Hopkin missed out on their respective World University Games finals by the narrowest of margins in Taipei on Friday.
Sport & Social Sciences graduate Paul, who was supported by a Trendell Sports Scholarship during his time at Bath, finished third in his 400m hurdles semi-final in 50.37 to place ninth overall.
There was a similar fate for Sport & Exercise Science student Hopkin (pictured) in the swimming pool as her 50m freestyle time of 25.43 was just five-hundredths of a second short of the required top-eight placing.
The World University Games is the world's second-largest multi-sport event, after the Olympic Games, and the University of Bath is represented by seven athletes – Jay Lelliott and Hopkin (swimming); Emma Hurst and Luke Johnson (tennis); Jenny Nesbitt and Paul (athletics); and Emily Donovan (football) – plus four support staff – coaches Mark Skimming (swimming), Barry Scollo (tennis), Corinne Yorston (football, strength & conditioning) and Jack Dawkins (physio) – at this year's event.