University of Bath student Rupert Batting has described winning a hat-trick of team gold medals and individual silver at the AIEC Student Rider Nations Cup  (SRNC) World Finals as "an experience I'll never forget".
The event rider, who is studying International Development with Economics, teamed up with Sophie Hall and India Wishart to claim the overall combined title for Great Britain in Poland, as well as gold in the team dressage.
Britain also tied for first place with Austria in the team show-jumping competition and Batting completed his medal collection by finishing as runner-up in the individual dressage.
The achievement was all the more impressive as riders compete on unfamiliar horses and the competition is run in a knock-out format.
Batting, a Team Bath Dual Career athlete who received funding towards his travel costs from the student-support programme, said: "Standing on top of the podium as world champions with the national anthem playing is a memory that will stay with me for a very long time.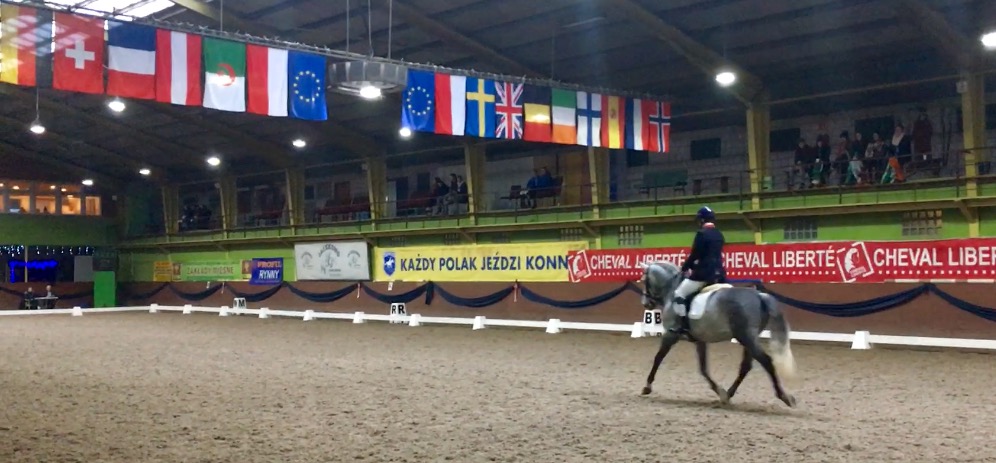 "It was a truly dreamlike three days with all the amazing GB squad members, riders from other nations, organisers and helpers – an experience I'll never forget."
The competition started with a dressage team test, where Batting and his fellow British riders all had to perform at the same time and in the same arena.
"It is very tricky and unusual in horse riding, and we were drawn against Germany and the Netherlands who are very good dressage riders, but all three of us British riders got the highest score," said Batting.
That set the tone for an excellent week, which included Batting performing a first-ever freestyle routine to music as one of two tests in the final of the individual dressage.
"It was quite challenging but I gave it my best shot and it was great fun to ride in," he said. "The later pre-set test was easily the hardest I've ever ridden and the horse was very tricky to ride but it was still a good experience and there were some parts I was very pleased with."
The Team Bath Dual Career Programme helps student-athletes at the University of Bath maximise both their academic and sporting potential, providing lifestyle support and access to funding support. Applications for the 2018-19 Dual Career Programme are now being taken – click here for more information.