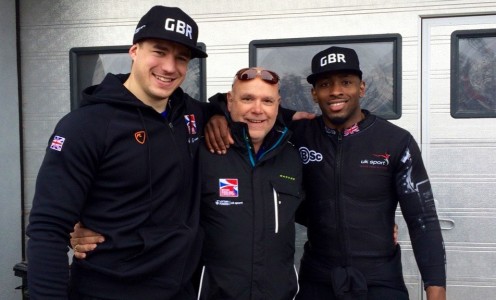 British Bobsleigh athlete Bruce Tasker will miss the PyeongChang 2018 Winter Olympic Games after suffering a minor stroke last week.
He is expected to make a full recovery and has already targeted a return to the track later in the year but has been advised on medical grounds not to compete in what would have been his second Olympics, with the Games now less than a month away.
"I'm gutted not to be able to conclude the four-year cycle by going to the Olympics but I'm very grateful that I'm still fit and healthy," said Tasker, a mainstay of the GB squad since 2010 and part of the four-man team in line for a potential retrospective bronze medal from the last Games in Sochi in 2014.
"I'm still sore but, otherwise, I feel fine. While I'm not training, I'm already resuming normal life and the dog hasn't been missing out on her walks!
"I've been looked after incredibly well by everybody and I'd like to thank my partner Kat and her father (both trained doctors), in particular, for their support. The same goes to all the medical staff at Wrexham and High Wycombe hospitals who looked after me, they were absolutely fantastic, as was Dr George Bownes [Chief Medical Officer for the British Bobsleigh & Skeleton Association] who has ensured I have received the best care and advice possible since my discharge from hospital. 
"To me, this was a completely freak occurrence. I was unlucky to be in this situation but I'm lucky to have come out of it unscathed."
All of us at Team Bath and the University of Bath, the training base for the British Bobsleigh & Skeleton Association, wish Bruce a speedy recovery and look forward to seeing him back on the track soon.
Pictured: Bruce Tasker (left) with Joel Fearon (right) after their fourth-placed finish in the two-man bobsleigh at the 2016 World Championships