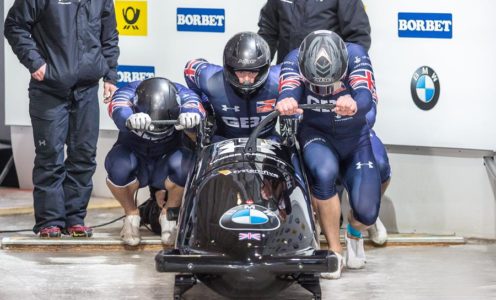 Ten members of the bobsleigh squad that train at the University of Bath have been selected by Team GB for the PyeongChang 2018 Winter Olympic Games.
Brad Hall will pilot both a two-man and four-man sled, with Lamin Deen also driving in the latter competition, while World Junior Champions Mica McNeill and Mica Moore (pictured) will contest the women's event.
Sochi 2014 veterans Joel Fearon, Andrew Matthews and Ben Simons have been selected as brakemen alongside Olympic debutants Greg Cackett, Nick Gleeson and Toby Olubi. Sam Blanchet and Beijing 2008 Olympian Montell Douglas will travel as P-accredited athletes.
Their selection comes the day after fellow British Bobsleigh & Skeleton Association (BBSA) athletes Laura Deas, Dom Parsons, Jerry Rice and Sochi 2014 gold-medallist Lizzy Yarnold were confirmed in the Team GB skeleton squad for PyeongChang. All train at the University of Bath using the country's only outdoor push-start track and the high-performance gym.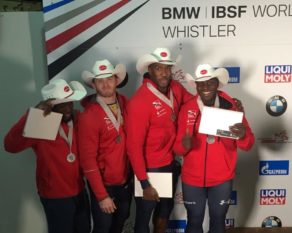 Deen, who competed at Sochi 2014 and won a silver medal on the World Cup circuit this season, said: "Last time I was a little like a rabbit in the headlights and I was just very, very pleased to be there. Now, it's a race – that's what it's about. We're racing against the same people we race against week in, week out and we've been faster than them and won medals against them this year."
Olympic debutant Hall has also steered Britain onto the World Cup podium this season, winning bronze in Park City, and said: "I spent the first two of my six years in the sport as a brakeman but I always knew I wanted to be a pilot. It's been a tough challenge but a lot of hard work and determination has helped me get here.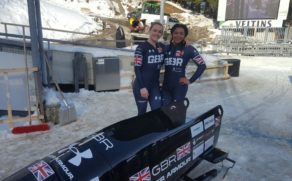 "It's one thing to be a participant and another to be a competitor, though. My aim is to go to the Games and do well, not just go there to take part."
Moore, brakewoman to McNeill in the women's competition, added: "I'm so incredibly proud to be able to represent Great Britain at the highest level. It's something that as a young athlete I dreamt of and I honestly can't believe it's coming true. I can't wait to be part of Team GB in PyeongChang."
The two-man competition will take place on February 18&19, followed by the women's races on February 20&21. The four-man will conclude the Games on February 24&25.