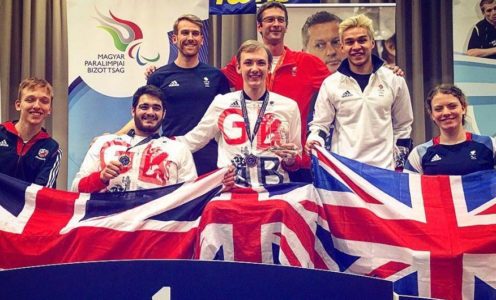 University of Bath-based Dimitri Coutya and Piers Gilliver enjoyed a medal-laden start to 2018 as they won gold and two bronze at the IWAS Wheelchair Fencing World Cup in Eger, Hungary.
Coutya, who was crowned as double World Champion in November, again struck gold in the men's Category B epee competition after beating Italy's Alessioa Sarri in the final.
That came after he had won bronze in the foil discipline, just behind Ukraine's Anton Datsko and Russia's Albert Kamalov.
MJ Church ambassador Gilliver, a Rio 2016 Paraympic silver-medallist, also began his year on the podium after finishing third overall in the men's Category A epee. Gold and silver went to Russia's Artur Yusupov and Maxim Shaburov respectively.
Gilliver, who has been world number one in Category A epee since 2015, was named as IWAS Wheelchair Fencing's best-ranked athlete of 2017, the third time he has received the award.
Both Gilliver and Coutya are coached by Peter Rome at the University of Bath Sports Training Village, training alongside Pentathlon GB athletes in the fencing hall.
Pictured: Wheelchair Fencing World Cup medallists Dimitri Coutya (front, second from left) and Piers Gilliver (front centre) with the GB team in Hungary.