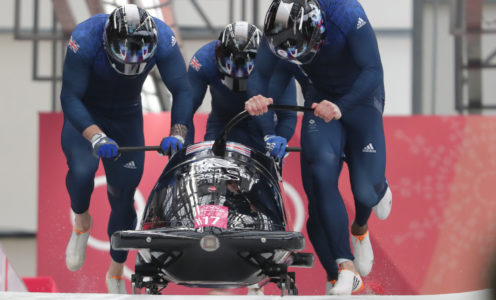 Team GB's four-man bobsleigh crews brought the curtain down on the PyeongChang 2018 Winter Olympic Games by finishing 17th and 18th respectively on Sunday.
There were just three-hundredths of a second between the British crews after four rounds of competition in South Korea, with Brad Hall, Nick Gleeson, Joel Fearon and Greg Cackett (pictured) edging in front after a quicker final run on the last day of the Games.
They clocked 3:18.26 overall, while Lamin Deen, Ben Simons, Toby Olubi and Andrew Matthews had a cumulative time of 3:18.29.
Both Hall and Deen, who train at the University of Bath with the British Bobsleigh & Skeleton Association (BBSA), have steered GB onto the podium during this World Cup season but were unable to match the speed of the top nations in PyeongChang.
Deen said: "We know we can do it. We've got the equipment, we're not looking for excuses, we just had a bad day and it's unlucky that it was at the Olympics."
Hall added: "We pushed well, we drove down the track well, so that's all we can do as athletes. In that respect I'm really happy with that but obviously it didn't transfer into a result.
"This is my first proper season as a four-man pilot, I'm the least experienced in the field except for one or two people, so I think there are a lot of positives to take. The future is looking bright for us."
Picture credit: USA TODAY Network/SIPA USA/PA Images