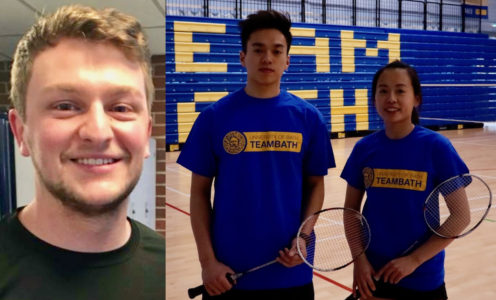 The Isle of Man is taking a team of 32 to the Gold Coast 2018 Commonwealth Games – and three of them are based at the University of Bath.
Swimmer Guy Davies and badminton player Jessica Li are both students at the University, studying Biology and Economics & Mathematics respectively, while Ben Li – Jessica's older brother and mixed doubles partner – has been training with the University's badminton squad in the build-up to the Games, which are taking place from April 4-15.
For Jessica, competing on the Gold Coast will fulfill an ambition she has held since she and her brother first took up badminton 12 years ago.
"I was only 16 when the Glasgow 2014 Commonwealth Games came round and didn't quite hit the qualifying criteria but Ben was selected and I got to go with him as assistant team manager," she said.
"I got to experience the Games but not play in it, so ever since then I've been determined to get to the Gold Coast. It's not a bad place to go either!"
Jessica – who last year became the first Isle of Man badminton player to win the women's singles title at the Island Games – is in her second year of study in Bath and combines a top-class education with training at the University's world-class sporting facilities.
"It has been a really good balance," said Jessica, who is coached by Peter Bush and supported by the University's Dual Career Programme.
"Bath is obviously such a good university academically, which was my priority, but I also wanted to improve my badminton so it's been great to have that opportunity to do well in both my sport and studies."
For the past two months, Jessica has been joined in Bath by her brother, Ben, who has taken a career break from his role as an investment consultant in London to focus on the Commonwealth Games.
"I've been training pretty much full-time in the build-up to the Games so I can give them my best shot – it's a once-in-a-lifetime opportunity," he said.
"I asked Jess to see if she could have a word with her coach about coming here and he was more than happy to take me on. Working with Pete and the squad of players here in Bath, and in such great facilities, has given me the best preparation possible.
"Jess and I are going to be competing in the mixed doubles too, so it's been a good opportunity for us to train together.
"Glasgow was my first Commonwealth Games and it didn't really happen for me there, so hopefully this is a chance to show what I can really do."
While Jessica has continued to combine her studies and sport, swimmer Davies has taken a year out from his Biology course at the University of Bath to prepare for his second Commonwealth Games.
"Back in September I made the decision to suspend my studies and return home to make the island my main training base for the upcoming season," said Davies, who will contest the 100m and 50m breaststroke races on April 6 and 8 respectively.
"The University, and more specifically Chris Todd [Director of Studies for Biology and Biochemistry] were really supportive of my decision. As it would have been my final year I was concerned with the pressure both academically and in sport but being able to fully set my sights on the Gold Coast was really motivating and I'm looking forward to coming back to finish my degree in September.
"I'm really proud to have the opportunity to represent the Isle of Man at my second Commonwealth games. It's the highest sporting event that the Isle of Man takes part in and the opportunity only arises every four years which makes it really special.
"I missed out on progressing through to the semi-final stages of my events at Glasgow 2014, so to make it through this time around would be my main target. I'm also looking to swim best times in my events and set new Isle of Man national records."
Thirty sportspeople based at the University of Bath will be competing at the Gold Coast 2018 Commonwealth Games, representing eight different countries – click here to see the full list.