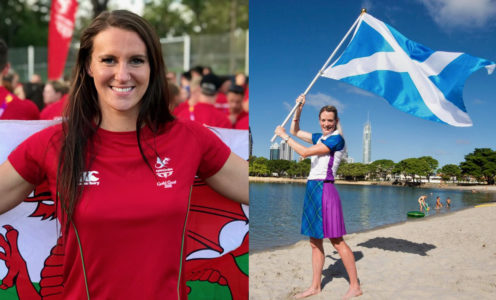 University of Bath-based sportspeople Eilidh Doyle and Jazz Carlin has been named as flag bearers, for Team Scotland and Team Wales respectively, for Wednesday's opening ceremony of the Gold Coast 2018 Commonwealth Games.
Hurdler Doyle, a double Commonwealth silver-medallist, will become Scotland's first-ever female flag bearer after being chosen by her fellow team members to lead the country into the Carrara Stadium.
"I'm so over the moon," said Doyle, who is coached by Brian Doyle at the Sports Training Village and will be looking to add to her vast collection of international medals when she competes in both the 400m hurdles and 4x400m relay.
"Even being nominated, I was so delighted and, being the flagbearer, I'm really, really chuffed. To be the first female to have the flag is just incredible."
Carlin, coached by Dave McNulty at the British Swimming National Centre Bath, is competing at her fourth Commonwealth Games and four years ago in Glasgow became the first Welsh woman in 40 years to win gold in the pool.
"I'm honoured and so excited to have the opportunity to lead the 2018 Team Wales for the opening ceremony," said Carlin, a double Olympic silver-medallist at Rio 2016.
"I always feel as though it's an honour to compete for Wales so this has definitely kick-started my experience here in Gold Coast.
"I think the older you get, the more you appreciate the experience of being at the games. I have fond memories of Glasgow, which was an incredible event. Obviously like any competition, I'm aiming for a podium.
"We did a tough block of training and the last few weeks have been about going easy in the lead up to competition. I'm really excited and can't wait for it to start."
Carlin will start her Commonwealth campaign on Thursday in the 200m freestyle heats (2am BST). She will also compete in the 400m and 800m freestyle, aiming to defend her title in the latter event, as well as the 4x200m freestyle relay.
Eleven University-based swimmers will be in action at the Gold Coast 2018 Commonwealth Games. They are among 39 University-associated sportspeople competing in Australia over the next fortnight, with Welsh hockey player Lewis Prosser – who studied Advanced Apprentice in Sports Excellence – the latest graduate to be selected.