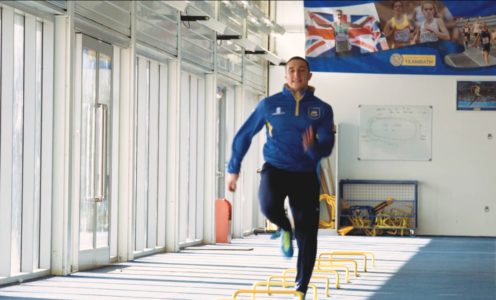 As the nation's top student track and field athletes prepare for this weekend's BUCS Outdoor Championships, Team Bath TV caught up with the University of Bath's student athletics squad to find out more about how they juggle the dual demands of sport and education.
The Blue and Gold, coached by Colin Bovell at the University's world-renowned Sports Training Village, have an impressive record in BUCS competition over the years and will field nearly 50 athletes at the 2018 edition, taking place from May 5-7 at the Bedford International Centre.
They have been preparing on both the indoor and outdoor athletics tracks at the STV, as well as the specialist jumps and throws hall and the Team Bath Gym. Athletes also receive physio and lifestyle support, all on campus, to ensure they are ready both physically and mentally to compete to their maximum potential.
"There is a lot of fun involved and a good social element, which is excellent, but we also take things seriously and we aim to get the most out of our athletes," said Bovell.
Watch the full video here:
Among the University of Bath students wearing the Blue and Gold this weekend is Jenny Nesbitt, a Sports & Social Sciences student who is supported by a Trendell Sports Scholarship.
She competed at the Gold Coast 2018 Commonwealth Games last month and has been selected to represent Great Britain at the European 10,000m Cup, being staged at Parliament Hill in London on Saturday, May 19.