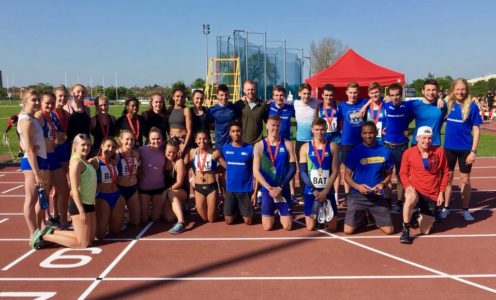 University of Bath students won a fantastic 14 medals during a brilliant Bank Holiday Weekend at the BUCS Outdoor Athletics Championships in Bedford and the BUCS Rowing Regatta in Nottingham.
Sports Performance student Cameron Chalmers, supported by a Thompson Education Trust scholarship, won the fifth individual gold medal of his BUCS athletics career as he led a Blue and Gold one-two in the 400m.
Chalmers, coached by James Hillier and fresh from representing Guernsey at the Gold Coast 2018 Commonwealth Games, clocked 45.97 to take victory ahead of training partner Ben Claridge (46.69).
They then teamed up with Tim Stephens and Dominic Ringrose-Voase to win 4x400m relay gold in 3:11.35, surging through the field from sixth to successfully defend the title for Bath.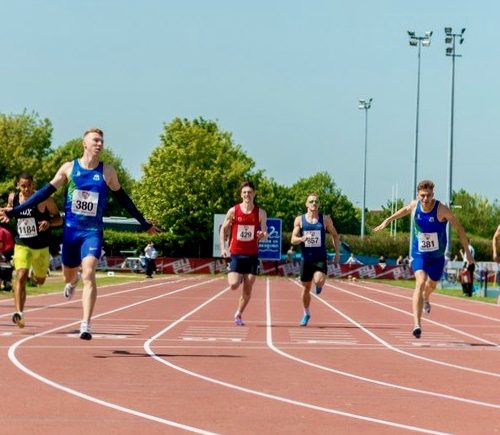 Cameron Chalmers crosses the line ahead of team-mate Ben Claridge (third from right) and the rest of the field to win his third successive BUCS Outdoor Championships 400m gold medal. CREDIT: BUCS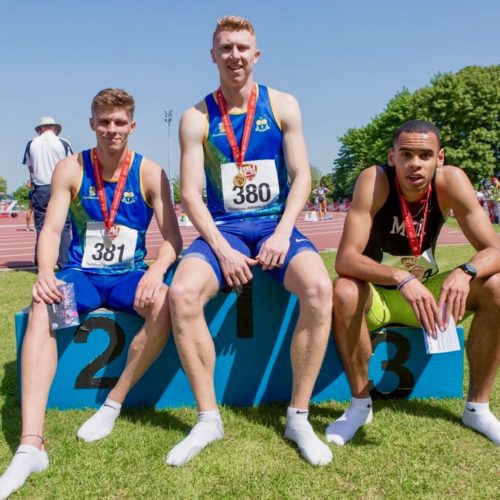 Cameron Chalmers (centre) and Ben Claridge (left) with fellow medallist Sam Hazel of Middlesex after winning 400m gold and silver respectively at the 2018 BUCS Outdoor Championships. PICTURE: BUCS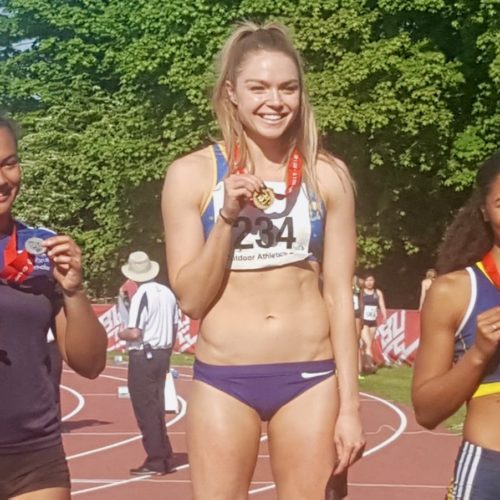 Chari Hawkins won long jump gold at the 2018 BUCS Outdoor Championships
There were two Bath athletes on the podium in the women's 200m too, where Beth Close took gold in 24.38 and Trendell Sporting Scholar Olivia Caesar won bronze in 24.66. Both are part of the student athletics squad coached by Colin Bovell.
United States international heptathlete Chari Hawkins, who is studying a Masters in International Education and Globalisation, demonstrated her all-round ability by winning medals in both track and field.
The Santander Sporting Scholar cleared 6.26m to win long jump gold on Sunday, then took 100m hurdles silver on Monday in 13.62. Georgia Silcox was fifth in both finals (5.80m and 14.22 respectively).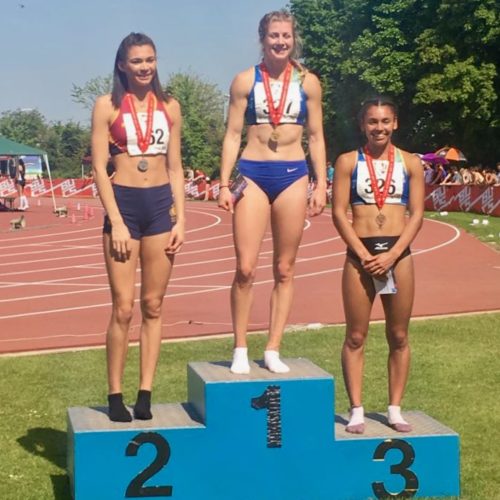 Beth Close (centre) and Olivia Caesar (right) won 200m gold and bronze at the 2018 BUCS Outdoor Championships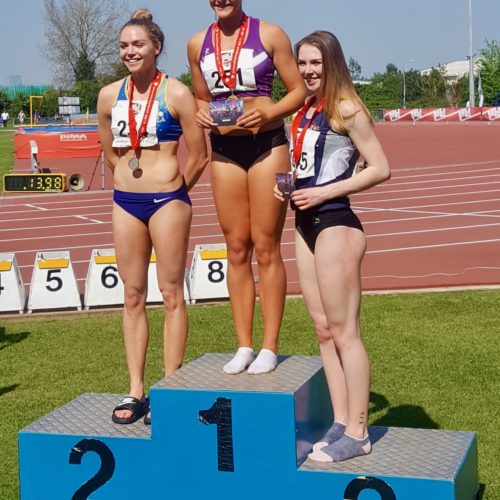 Chari Hawkins (left) won 100m hurdles silver at the 2018 BUCS Outdoor Championships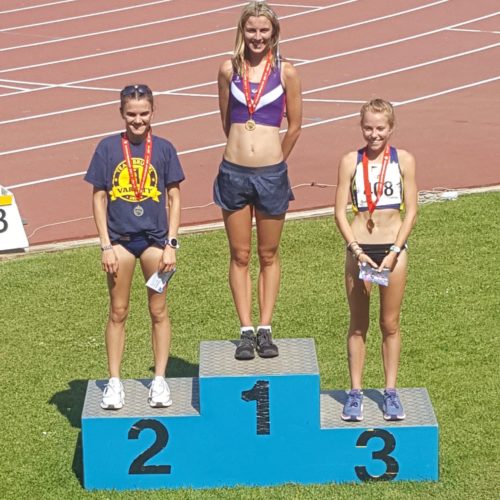 Jenny Nesbitt (right) won 5,000m bronze at the 2018 BUCS Outdoor Championships
Valdo Szucs, who is also supported by a Santander scholarship, won 110m hurdles silver in 14.17 and Trendell Scholar Jenny Nesbitt, who represented Wales at the Commonwealth Games last month, won 5,000m bronze in 16:30.16.
Bath won medals in both of the women's relays – Rachael Bell, Ellie Bilsland, Rachael Donnison and Close won silver in the 4x100m in 47.62, while Donnison, Molly Connors, Caesar and Rebecca O'Hara took bronze in the 4x400m in 3:47.40.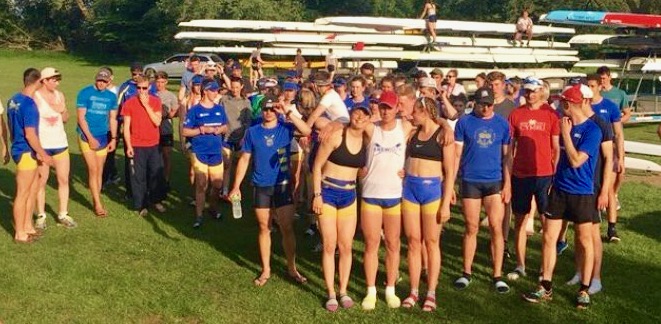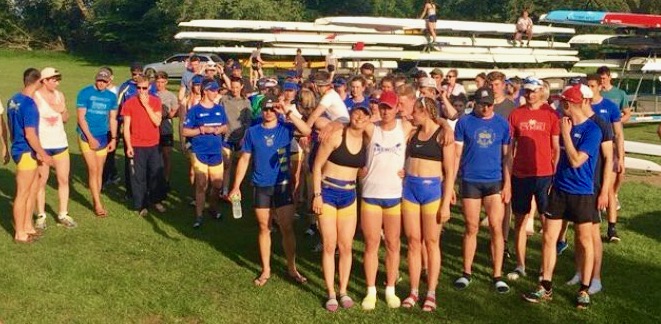 The BUCS Regatta at the National Watersports Centre in Nottingham saw Crew Bath, led by head coach Tom Mapp and GB Rowing Team World Class Start coach Dan Harris, field a record number of 80 rowers and reach ten A finals.
Chemistry Masters student Rachel Borrows and Megan Stoker, who studies Biomedical Sciences, won silver in the women's intermediate double sculls in 7:47.78.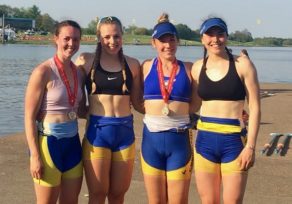 The women's intermediate single scull final saw Civil Engineering Masters student Zara Mulholland win bronze in 8:39.38 and Becky Wilde, who studies Sport & Social Sciences, finish fifth in 8:42.27.
Both are members of the successful GB Rowing Team World Class Start programme at the University of Bath and joined forces to finish a fine fifth in the women's championship double sculls in 7:38.65.
Holly Baines, Magdalena Cygan, Amy Dalziel, Molly Fownes-Walpole, Hazel Hallett, Rachel Smith, Anna Stordy, Emily Daugherty and cox Ben Abell took bronze in the women's beginner eights in 7:25.00. Dalziel, Fownes-Walpole, Hallett, Stordy and Abell also reached the final of the beginner coxed fours.
The men's championship lightweight quadruple scull of Max Valentine, Josh Poat, Chris Bryan-Isaacs and Tom Bowles finished fourth, with Poat and Bowles also reaching the final of the lightweight men's double.
Bath eights also qualified for the championships finals in both the men's lightweight and women's open-weight competitions, placing sixth in 6:29.82 and 7:01.60 respectively.