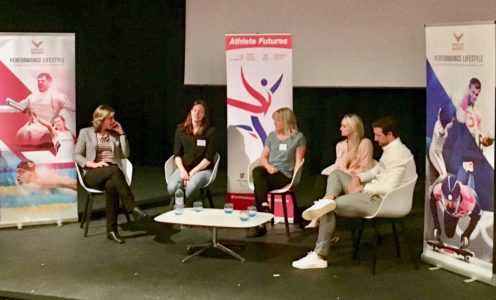 Olympic, World and Commonwealth champions based at the University of Bath were among a host of athletes who received careers advice for life after sport.
The University hosted the third of four Athlete Futures Roadshow events in 2018, organised and run by the Athlete Futures Network, a partnership between UK Sport and the English Institute of Sport (EIS) that is supported by the British Olympic Association and the British Paralympic Association.
The Network provides services and support to benefit all athletes who have previously been, or are currently on, a sport's World Class Programme (WCP) with a key focus on transitioning to future careers.
Around 35 athletes from sports including skeleton, bobsleigh, modern pentathlon, swimming and gymnastics spent the afternoon at The Edge, adjacent to the Sports Training Village. They attended workshops and met with potential employers.
They were welcomed by Dame Katherine Grainger, the current Chair of UK Sport and Britain's most decorated female Olympic athlete of all time after winning medals at five successive Olympic Games.
The former rower was joined by University of Bath graduate and former swimmer Michael Jamieson, a London 2012 Olympic Games silver-medallist who spoke about athlete identity and his personal journey.
Sarah Barrow (ex-GB diver), Keri-Anne Payne (ex-GB swimmer) and Jenny Jones (ex-GB snowboarder) then joined Jamieson on a Q&A panel, made up of former elite athletes, to speak about their lives after sport.
A super evening with Katherine Grainger and lots of wonderful and inspiring athletes, chatting about the future of @uk_sport. pic.twitter.com/9LXfXdzdBt

— Lizzy Yarnold (@LizYarnold) June 4, 2018
Dame Katherine said: "It was a pleasure to meet so many passionate current and former athletes at a university I always enjoy visiting.
"With such a variety of athletes at the University of Bath, it's great to get them in one room discussing transitioning out of sport. Hearing from people who have been through that process is vital so I hope they took something away from the session.
"These events are important in preparing athletes for life after sport. It can be a challenging time so anything they can do – whether it be networking, undertaking work placements or studying – can only help them prepare."
Two workshops were available to attendees, focusing on networking and setting up a business – for the budding entrepreneurs amongst the athletes.
A range of employer exhibitors, from insurance companies, representatives from education, recruitment, finance, health and fitness and the sports industry, then spoke with attendees and showcased work experience and career opportunities.
Current and former athletes could also speak with the EIS' Performance Lifestyle advisors at a drop-in service to discuss CVs, further education and receive careers advice.
The University of Bath Sports Training Village is home to one of eight High-Performance Centres in the UK for the EIS, the country's largest provider of sport science, medicine and technology services.