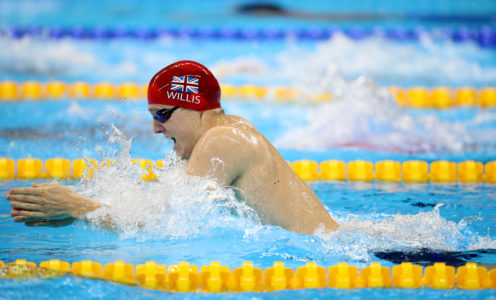 Double Olympian Andrew Willis has today announced his retirement from swimming.
The University of Bath Chemical Engineering graduate is one of the most experienced and longest-serving swimmers in the successful British Swimming National Centre Bath programme, having trained with David McNulty at the Sports Training Village since beginning his studies in 2009.
During that time he reached two Olympic 200m breaststroke finals, at London 2012 and Rio 2016 where he missed out on a medal by just eight-hundredths of a second, and also raced at three Commonwealth Games, winning bronze at Glasgow 2014.
"For me the moment that will stay with me forever will be when I came out at London," said Willis. "The atmosphere and noise was just exhilarating.
"Rio was probably my highlight in terms of being the best prepared and giving my best performance but London was definitely special."
Willis, who was supported by a British Swimming National Training Centre Scholarship while combining study and sport, decided to call time on his swimming career after missing out on qualification for this year's European Championships.
"It really seemed like the right time for me to retire," he said. "I thought about it and spoke to my coaches, lifestyle advisors and family and thought whether I had another two years in me to get to Tokyo.
"Ideally I would have liked to finish after the Europeans but now this has given me time to help out in the Chemical Engineering department at Bath, go on holiday and think about my next step.
"I'm really going to miss everyone at Bath but the fact I'm here still helping out has given me some structure until I decide what to do next."
In his lengthy career Willis secured a place in the final at both the 2011 and 2015 World Championships and won British titles in 2012 and 2016.
In addition to focussing his attention on his efforts in the pool, Willis also took responsibility as an athlete representative at this year's Gold Coast Commonwealth Games – ensuring the younger members of the team were prepared for the event and passing on his experience. That mirrored the role he has played at the Sports Training Village for new swimmers joining the National Centre Bath.
McNulty, who has coached Willis since he arrived at the University of Bath in September 2009, said: "The service that Andrew has given to this centre and the University of Bath is absolutely massive. We had a great leaving party for him – it was the first time we had all come together as staff and swimmers for someone who was leaving because he deserves that kind of send-off.
"He has been here since 2009 and made every Olympic, World, Commonwealth and European final along the way. Andrew produced his lifetime best when it mattered, the Olympic final in Rio, and he has been great in and out of the pool here. He was always the first to welcome anyone new to the programme and show them the ropes.
"Andrew was also one of the first to manage university and high-performance sport, which is not easy. He used to run from a classroom to the pool and then to the gym – it was tiring work but he managed it.
"He has been an absolute pleasure to coach for the past nine years, he creates the right vibe in training, and we'll miss him massively but we all wish him well for his next venture."
Chris Spice, National Performance Director for British Swimming, said: "Andrew has been a huge part of the squad during my tenure and will be missed by the staff and athletes alike.
"He has battled on the world's biggest stage and always given his full focus to every task we have given him.
"Whilst we are sad for him to be leaving us, we wish him all the best for his next step and we know if he puts the level of focus and determination into that as he did in the pool he will surely make a success of it."