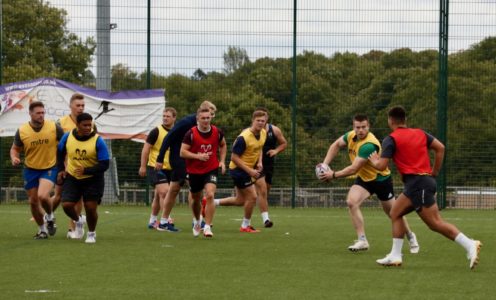 The Team Bath men's rugby union squad began pre-season training this week ahead of an exciting 2018-19 BUCS Super Rugby campaign that will start and finish in front of their home fans – and once again include an Anniversary Game at the home of Bath Rugby.
The season begins during Freshers' Week when the Blue & Gold entertain Northumbria at the University of Bath on Wednesday, September 26, and concludes in March when old rivals Loughborough come to the Sports Training Village for what is always a big match.
There are nine home league matches in total during 2018-19, following Cardiff University's promotion to the elite national competition, and one of them will take place at the world-famous Recreation Ground on a date to be confirmed. The two previous Anniversary Games – marking the University of Bath receiving its Royal Charter in 1966 – have been enjoyed by a combined crowd of more than 10,000 spectators.
All of the home matches at the Sports Training Village kick off at 6.30pm and will once again be free to watch for spectators. Click here to see a full 2018-19 fixture list.
The away fixtures include games at a number of high-profile grounds across the country including Rosslyn Park RFC in London which will host Team Bath's fixture against Durham University on Friday, October 5 – the ideal opportunity for alumni from both institutions to support their team in the capital city.
With less than 50 days to go until the opening match against Northumbria, 60 rugby-playing students – including a number of freshers – have returned to university more than a month before their courses begin to start building towards the new campaign.
Captained this season by Bath Rugby Academy player Tom Doughty, the squad are combining on-pitch training and sessions in the Team Bath Gym with off-field learning including education on concussion and clean sport, video analysis and culture meetings developing the club's 'Brothers (and Sisters) For Each Other' ethos.
BUCS Super Rugby – a national competition organised by BUCS [British Universities and Colleges Sport] and supported by the Rugby Football Union and the Welsh Rugby Union – is now in its third season and will see the introduction of relegation play-offs for the first time in 2018-19.
Want to train like Team Bath rugby? Check out this video for some drills you can incorporate into your club's programme…