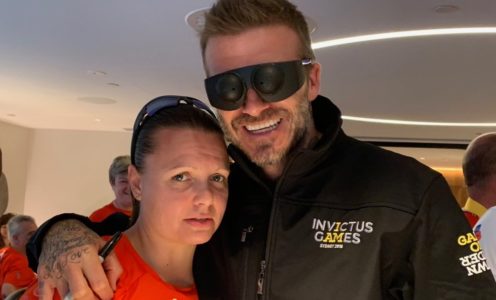 Kelly Ganfield said that becoming the first visually-impaired athlete to claim a medal at the Invictus Games "felt immense" after the University of Bath-based sprinter won silver in Sydney.
Ganfield, who runs tethered to guide and athletics coach Mikail Huggins, teamed up with Naomi Adie, Alexandra McClellan and Debbie O'Connell to finish runners-up to the United States in the women's 4x100m relay.
"It felt immense because this was an event they hadn't tried before and representing visually-impaired people was phenomenal," Ganfield told the BBC. "It just shows the world and other visually-impaired people that you can conquer anything."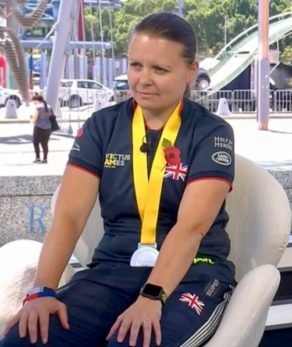 The silver medal was just reward for Ganfield, who was the only visually-impaired athlete competing at the Invictus Games and had to race in the IT7 category for athletes with the lowest physical impairment.
She ran brilliantly to finish seventh in both the 100m and 200m, in times of 16.63 and 34.85 respectively, and also placed seventh in her first-ever long jump competition.
Ganfield, who is coached by Team Bath strength and conditioning coach George Studd, also represented Team UK in the indoor rowing competition, missing out on a medal by just four and two points respectively in the four-minute endurance and one-minute sprint.
Among the highlights of the Invictus Games for the Army veteran and keen football fan was meeting Sydney 2018 Ambassador David Beckham. He wore the special pair of glasses (pictured top) that illustrate how restricted Ganfield's vision is after suffering two strokes due to a rare blood condition, Antiphospholipid syndrome, and also cheered her on in the 100m final.
There were 72 medals won in total by Team UK, whose trials once again were staged at the University of Bath Sports Training Village earlier this year and attended by HRH Prince Harry and then fiancée Meghan Markle. Watch the video below to find out more…