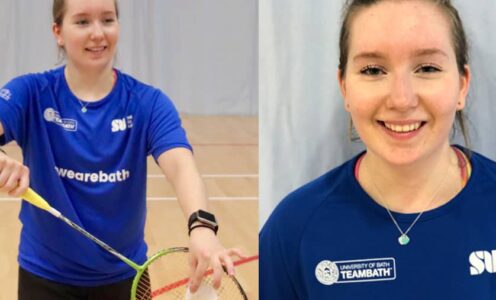 University of Bath fresher Molly Chapman is aiming to finish her U19 career on a high note when she represents England at the BWF World Junior Badminton Championships in Canada next week.
The Santander Sporting Scholar, who started a Sports Performance course in September, will partner Freya Redfearn in the girls' doubles competition taking place from November 5-18 in Markham near Toronto.
They will go into the tournament with confidence high after winning gold earlier this month at the TEM Slovenia Junior International, with Chapman also teaming up with Will Jones to claim her first mixed doubles title.
"I've been playing doubles with Freya for the past three years but Slovenia was the first time I'd played in the mixed with Will, so it wasn't a bad start," said Chapman, who also competed at the European Junior Championships in Estonia in September.
"I used to play singles but I was getting better results in the doubles so I thought I would focus my attention on that and it has definitely helped. Last year I won titles in Belgium and the Czech Republic, and I've had some more good results this year.
"The World Juniors will be my last competition before I move up to senior level next year, so it will be a good way to finish my junior career."
Chapman, from Milton Keynes, used to play tennis but switched racket sports six years ago after spotting a flyer for badminton trials. She quickly displayed a natural ability for the sport and it was while competing on the national junior circuit that she met Peter Bush, Head of Badminton at the University of Bath.
"I saw Pete at several tournaments and he would tell me about the badminton set-up here in Bath and the support I could get with my sport and studies," she said.
"It really interested me so I came here for an open day and really liked the campus, how everything – accommodation, lectures and training – is within walking distance. I also liked the city as well.
"It's been a hectic few weeks with starting university and competing internationally but I think I am managing OK so far. There are a lot of people on my course who are in a similar situation, so the lecturers are used to that and support you.
"I've also been fortunate enough to receive a Santander Sports Scholarship. I was so happy when I got it, it has already been a massive help with training and competing."
Badminton is one of the strongest student sport clubs at the University of Bath, with the men's and women's teams regularly topping their BUCS [British Universities & Colleges Sport] league table in recent years.
"I've played three BUCS matches and they have been really exciting," said Chapman. "Being part of the team has been great and everyone has made me feel so welcome. Bath has built a great reputation for badminton and it's good to be a part of that."