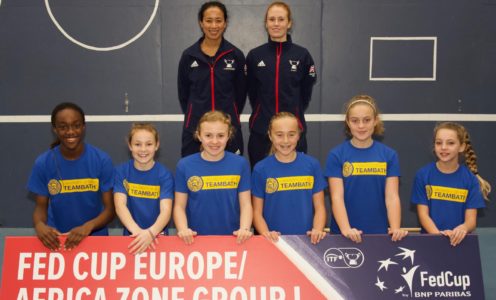 Great Britain's Fed Cup Captain Anne Keothavong and Team Bath player Anna Smith joined local tennis players at the University of Bath today as tickets for the highly-anticipated Fed Cup by BNP Paribas went on sale to the general public.
The University's £30million Sports Training Village will stage the international women's team event, dubbed the World Cup of Tennis, from February 6-9 2019 as GB and seven other nations compete for a place in the World Group II play-offs.
Earlier this year, the International Tennis Federation (ITF) awarded co-hosting rights for the Europe/Africa Zone Group I tie to the Lawn Tennis Association (LTA) and they deemed the STV – with its eight indoor courts, on-site facilities and high-performance sporting environment – as the perfect venue.
The eight-court indoor hall will be transformed, with capacity for more than 2,000 fans to watch the action on show courts which are being specially constructed for the event.
To celebrate tickets being released to the public, Captain Keothavong and Smith – GB's top-ranked doubles player – took to the courts to join players from across the city, including those from the Team Bath Tennis Academy, university social players and mums, as anticipation for the tournament's return starts to build.
Keothavong said: "I am thrilled that the Fed Cup is coming back to Britain as the tournament is a great way to not only showcase world-class tennis but inspire more women and girls to give the sport a go. I hope the public will come out and support the GB Team as it will really spur our players on."
Smith added: "For me personally it is massive because I have been training here for five years and it is like a second home to me. To be able to share that [Fed Cup] with my coaches and all the people here would be so exciting. Also, being able to bring the Fed Cup to all the kids who train here will hopefully inspire and motivate them."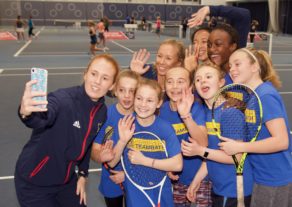 Team Bath Tennis, based within the STV, was recently named as a Regional Player Development Centre as part of the LTA's new high-performance strategy. Coaches are also committed to promoting participation in the women's game, with tri-weekly Girls 4 Tennis sessions proving a smash hit since being launched earlier this year.
Stephen Baddeley, Director of Sport at the University of Bath, said: "It is a real source of pride to have been selected to host next year's Fed Cup tie. We have a thriving tennis academy and programme at the home of Team Bath, which includes hundreds of regular players from beginners to tour professionals who will be keen to support this World Cup of Tennis.
"I'm sure that the event, which is open to the public, will inspire others across the nation to support Britain's top female players. Tennis is a great option for social sport and fitness as well as for those aspiring to join in competitively."
Scott Lloyd, Chief Executive of the LTA, added: "We are delighted to bring the Fed Cup to Bath, which gives us the opportunity to put international women's team tennis on the map and in a city renowned for its sporting heritage.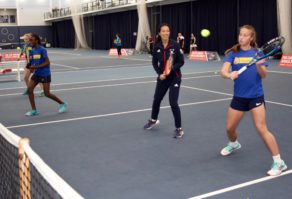 "The LTA is on a mission to open tennis up to more people and enable them to experience how much fun the sport can be. We hope people in the South West will take the opportunity to support Great Britain next February and experience the thrill of live tennis."
The four-day tie takes place from February 6-9, with tickets starting at £6. Each session will guarantee three exciting matches and plenty of opportunity for kids and families to have a go at playing themselves.