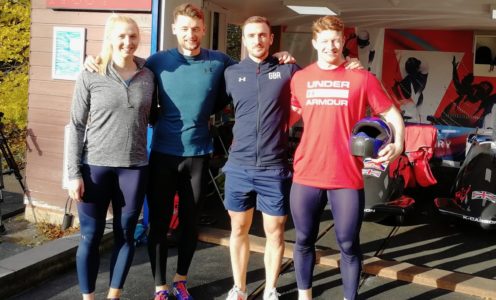 British Skeleton athletes who train at the University of Bath enjoyed a fine day at the European Championships as Laura Deas finished fifth and four of her team-mates recorded their best-ever top flight results.
Deas produced her best World Cup result since winning Olympic bronze last year, while Sports Performance graduate Madelaine Smith recorded her best-ever showing with World Cup eighth and European Championship seventh in Igls, Austria.
In the men's race, it was personal bests all round as Marcus Wyatt's superb effort saw him finish sixth in the World Cup and fifth in the continental competition. Jerry Rice built on his top ten at his debut Olympics with joint ninth (equal eighth in the Euros) and Jack Thomas matched his previous World Cup best of 15th (European 13th).
Kim Murray placed 20th in the women's race as all six Brits made it through to a second run in the fourth competition of the season.
British Skeleton athletes train at the University of Bath using the high-performance gym, indoor sprint track and the UK's only outdoor push-start track. Click here to find out more.