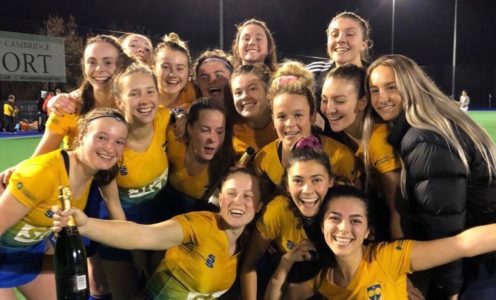 The University of Bath women's hockey 1st team are celebrating after winning the BUCS [British Universities & Colleges Sport] Premier South A title for the first time since 2008.
They went into their final game on Wednesday against Cambridge knowing that victory would ensure they could not be caught by nearest challengers Exeter.
Cambridge had won at Bath before Christmas, though, and needed a victory themselves to have any chance of avoiding the relegation play-offs.
It made for a tight contest but the Blue & Gold, coached by Jody Paul and captained by Santander Sporting Scholar Anna Reynolds, eventually came out on top thanks to a goal from Courtney Hansford with five minutes to go.
Winning the title means that Bath go straight through to the quarter-finals of the national BUCS Premier Cup competition, where their goal is to reach at least the last four.
A number of the BUCS team also represent Team Bath Buccaneers in Premier Division 1 of the West Clubs Women's Hockey League and are aiming for a title double – they are currently a point clear at the top with seven games remaining.