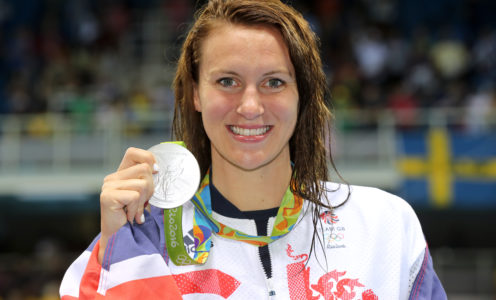 Swimmer Jazz Carlin, who won two silver medals at the Rio 2016 Olympic Games while training at the University of Bath, has today announced her retirement after a hugely-successful 14-year career.
Carlin, who has been coached by David McNulty at the British Swimming National Centre Bath since 2014, won World, European and Commonwealth medals before enjoying her greatest moment in Rio when she won 400m and 800m freestyle silver.
"It's really hard for me to pick out one single highlight," said Carlin. "Obviously winning two silvers at the Olympics was an incredible experience but winning gold for Wales at the Commonwealth Games in 2014 is also up there.
"I've been on an amazing journey through swimming, I've learnt so much about myself and how to deal with certain situations. I love swimming and I'm lucky to have been a part of the sport for so long."
Coach McNulty added: "Jazz moved to us at the British Swimming National Centre Bath in 2014, with a clear vision, mind-set and ambition to win Olympic medals at the Rio 2016 Games. Over the next two years, Jazz left no stone unturned in her dream of making it to the Olympic podium and made a huge 'Olympic Shift'. This simply means we did everything better, with more focus and with an unrelenting drive for excellence in every area.
"When I walked Jazz down to the call room at the Rio Olympic Games for her first Olympic final, we honestly knew that all had been done that we possibly could do and Jazz was absolutely ready; with two individual Olympic silver medals the rest is history."
Carlin will remain in the sport and will be working closely with Swim Wales, mentoring the current Welsh youth squad and fronting the organisation's Learn to Swim programme.