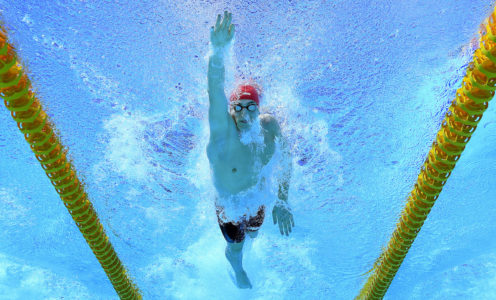 James Guy set a new meet record as University of Bath-based swimmers continued their preparations for next month's British Championships by recording eight top-three finishes at the Edinburgh International over the weekend.
Olympic medallist Guy, coached by Jol Finck at the British Swimming National Centre Bath, clocked 1:47.66 in the 200m freestyle to finish ahead of Duncan Scott. MJ Church Ambassador Tom Dean was third in 1:49.14 and Cameron Kurle took fourth in 1:50.08. Goldsmith Sporting Scholar Luke Turley who studies Sports Performance, won the B final in 1:51.53.
Guy believes there is more improvement to come ahead of the trials, saying: "The 200m freestyle felt OK – not amazing but it isn't supposed to as we're still five weeks from trials and hopefully we can progress that.
"Last year was a really weird year – I'd had six or seven years of just PBing every year but last year was just a bit of an off year. We kind of knew what we were doing wrong and this year we've fixed that and I think I've shown that just then."
Guy (1:57.81) was also victorious in a 200m butterfly final that also featured Natural Sciences student Jacob Greenow, a Santander Sporting Scholar coached by Mark Skimming, who placed sixth in 2:03.80.
Greenow was also fourth in the 200m individual medley in 2:04.11, touching the wall behind Mechanical Engineering student and Bill Whiteley Scholar Dean who secured another third-placed finish in 2:02.91.
Backstroke specialist Jessica Fullalove enjoyed a fine meeting, claiming victory over both 100m and 200m in 1:00.85 and 2:10.50 respectively. She was also runner-up in the 50m backstroke in 28.65.
Fellow National Centre Bath swimmer Kurle was third in the 400m freestyle in 3:55.79, edging out Turley by just one-hundredth of a second.