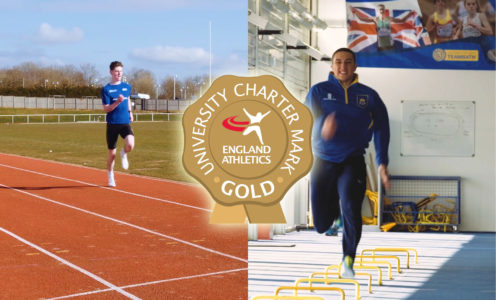 The University of Bath has become only the second university in the country to be awarded a Gold Charter Mark by England Athletics.
The Charter Mark recognises the high standards of support being offered to student-athletes across all track and field disciplines, as well as the vibrant training and competitive environment provided at the Sports Training Village.
Colin Bovell, Head Athletics Coach at the University of Bath, said: "This is great news and we are delighted that Bath has gained this recognition.
"Our athletics programme is designed to maximise the potential of all involved, whether it representing the University at a BUCS Championships or competing at international level. There is a lot of fun involved but we also take things seriously and aim to get the most out of our athletes.
"Everything is in one place here – training, gym, physio, sport science and access to lifestyle support – and it is an inspirational environment to be in. Thank you again to England Athletics for awarding us the Gold Charter Mark."
Student-athletes in Bath have access to inclusive training sessions overseen by highly-qualified coaches, supporting all level of athletes from recreational through to elite. The range of training facilities includes indoor and outdoor tracks, an indoor jumps and throws hall and the newly-extended Team Bath Gym & Fitness Centre, which has more than doubled the gym capacity.
The Team Bath Physio & Sport Science Centre is also located in the STV along with a temperature acclimatisation and altitude chamber, ice bath and warm bath unit.
Student-athletes can apply for scholarships and the Team Bath Dual Career Programme, which provides lifestyle support to help them manage the demands of study and sport.
The Charter Mark also recognises the University's links to a range of local clubs, providing additional training and competitive opportunities for students.
Track and field athletes at the University are currently preparing for the biggest event of the student athletics calendar, the BUCS Outdoor Championships taking place at Bedford Stadium from May 4-6. Click here to find out more about the athletics programme at the University of Bath or watch the video below: